2016 Elections
Will 2016 Come Down to the Electoral Map?
With the biggest ones locked in, the presidential race hinges on 15 states.
by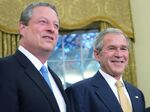 Any American political strategist or reporter -- I've been one for more than four decades -- loves the map: That's the electoral map that decides the presidential election every four years.