view
War Is Over (If Colombia Wants It)
A daily digest of opinions and analysis from Bloomberg View.
by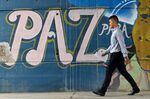 Waging Peace in Colombia
A peace deal could end Colombia's decades-long internal conflict -- but only if the country's political power brokers let it. Mac Margolis says President Juan Manuel Santos has a tough message to sell: Peace isn't surrender.
Maybe We Clamped Down Too Hard on Finance
Has the regulatory pendulum swung too far after the credit crisis, stifling the creativity the U.S. financial industry needs to thrive? Barry Ritholtz says it's a question worth taking seriously.
Believe It or Not, U.S. Women Are Doing Better
Despite some discouraging data, America has been making progress toward gender equality. Betsey Stevenson offers reason to be optimistic about women in the workplace and beyond. 
Trump's 2,000-Mile Mistake on Immigration
Maybe the Republican candidate really expects to build a big, beautiful border wall, or maybe it was always an elaborate metaphor. Either way, Francis Wilkinson says, Trump's recent travails show the limits of bigotry and boorishness in a U.S. general election.  
Duke Tries to Enforce a Dead Man's Promise
Embattled energy magnate Aubrey McClendon pledged almost $19 million to Duke University, but gave away less than half of that before dying in a car accident in June. Now, with almost $10 million at stake, the university is wading into a messy area of law. Stephen L. Carter lays out the stakes.
Ritholtz's Reads
Peter Thiel is backing a startup to fund lawsuits (Vanity Fair)
Years of Fed missteps fueled disillusion with the economy (WSJ)
Target-dated funds are welcome, but no panacea for pension holes (FT)
(Read Barry Ritholtz's full daily news roundup.)
Bloomberg Gadfly 
(Read more from BV's sister site for fast business commentary.)
Get Share the View every morning in your inbox. Click here to subscribe.
To contact the author of this story:

Before it's here, it's on the Bloomberg Terminal.
LEARN MORE