view
Ryan Lochte Fails to Charm Brazil For Some Reason
A daily digest of opinions and analysis from Bloomberg View.
by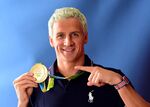 Ugly Americans, As Seen From Rio
Brazilian sports fans can be an unforgiving bunch, but U.S. swimmer Ryan Lochte and his teammates sparked new levels of outrage this week with their ever-shifting story of being robbed at gunpoint (a tale police now say was a lie). Mac Margolis reports from an insulted Rio de Janeiro.
The Silver Lining of China's Olympic Slump
Heading into the final days of the Rio Olympics, Chinese athletes have picked up 20 gold medals -- a respectable haul, but far from the 38 won in 2012 or the 51 tallied in 2008. The Chinese press isn't happy, but Adam Minter suspects the dip is a surprise side effect of a positive long-term trend. 
The U.S. Recovery Is Not What It Seems
By jobs and per capita growth, the U.S. isn't doing much better than Europe or Japan. In some ways, it's even worse. Narayana Kocherlakota shares the bad news about the economic rebound that wasn't.
Clinton and Trump are Both Wrong on Corporate Taxes
She would tax companies too much. He wouldn't tax them enough. Where's Goldilocks when you need her? Paula Dwyer examines two seriously flawed proposals, each misguided in its own special way.
Asking Judges to Decide Who's Bisexual Is Messy
A Jamaican man tried to claim asylum in the U.S., arguing his sexual orientation would put him at risk on the Caribbean island. Noah Feldman says a divided appeals court's ruling on the case was filled with questionable assumptions on both sides. (Not up to speed on the status of gay rights around the world? Bloomberg QuickTakes offers a global overview here.)
Ritholtz's Reads
The "why" in wage segregation (Niskanen)
Hunting for yield? They're handing it out in the money market (Wall Street Journal)
Trump campaign CEO's resume includes Goldman and "Seinfeld" (Bloomberg)
(Read Barry Ritholtz's full daily news roundup.)
Bloomberg Gadfly 
(Read more from BV's sister site for fast business commentary.)
Get Share the View every morning in your inbox. Click here to subscribe.
To contact the author of this story:

Before it's here, it's on the Bloomberg Terminal.
LEARN MORE