Share the View
Nothing Against Denmark, But...
A daily digest of opinions and analysis from Bloomberg View.
by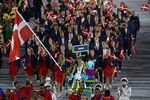 Denmark's Nice, Yes, But Danes Live Better in the U.S.
While some Americans long for the U.S. to be more like Denmark, research suggests Danes in the U.S. enjoy a higher standard of living than their counterparts across the Atlantic do. Tyler Cowen says a skeptical new book on Nordic socialism offers useful lessons for American Scandiphiles.
The Troubling Case of an Attorney General Who Lied
Kathleen Kane, Pennsylvania's attorney general, resigned in disgrace on Tuesday after a jury convicted her of lying under oath; those untruths could now net her up to 14 years in prison. To explain why perjury is such a grave crime (when, after all, everybody fibs), Noah Feldman traces out 3,000 years of legal history, going back to the time when the gods were divine law-enforcement agents. 
One Group Is Responsible for Trump: Republicans
Not Paul Krugman or a cabal of left-leaning pundits, as one much-discussed theory has it. Jonathan Bernstein says efforts to put the blame on Democrats don't stand up to scrutiny.
A Soros Plan, a Marginalized Israel
George Soros's Open Society Foundations tried to be less-than-open about its pressure campaign on Israel, according to a trove of newly leaked documents. Eli Lake takes a moment to savor the irony. 
Egypt's Failing Economy Is Sisi's Fault
Billions of dollars of foreign aid haven't done much to revive Egypt's struggling economy, where unemployment is high, poverty is higher, and inflation is rising rapidly. The Bloomberg View editorial board places the blame squarely at the feet of President Abdel-Fattah el-Sisi, who seems more interested in pursuing outrageous mega-projects than reasonable economic reforms.
Ritholtz's Reads
The great productivity puzzle (The New Yorker)
Hedge funds are losing endowments after exodus of pensions (Bloomberg)
We read that 10,000-word interview with Apple CEO Tim Cook so you don't have to (Recode)
(Read Barry Ritholtz's full daily news roundup.)
Bloomberg Gadfly 
(Read more from BV's sister site for fast business commentary.)
Get Share the View every morning in your inbox. Click here to subscribe.
To contact the author of this story:

Before it's here, it's on the Bloomberg Terminal.
LEARN MORE