Latin America
Nicaragua's Once and Future President
Ex-revolutionary Daniel Ortega has an unhealthy lock on this November's election.
by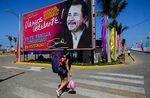 Latin American diplomacy has had its hands full. With illegal migrants streaming over borders, Colombia trying to close a contentious peace accord, and Venezuela's economy and society imploding, it's hard to know where to focus.
All the better for Daniel Ortega, the graying Marxist rebel-turned-supremo who has quietly transformed Nicaragua from a democratic promise to an almost intractable autocracy.
Thanks to Ortega, Nicaraguan democracy is now nearly an oxymoron. A decade of rules-rigging has neutered the political opposition, silenced critics, and stacked the country's courts. Partly as a result, this year's presidential election is Ortega's to lose. Technically, there are other challengers on the Nov. 6 ballot, but that's theater. The only political force that counts in Nicaragua is "Orteguismo."
Such a brazen personalization of power seems out of date in Latin America, which despite a severe economic downturn is more democratic than ever. Kleptocrats are being brought to justice, free and fair elections are the rule across the hemisphere, and authoritarians are on the defensive.
And yet, until recently, Ortega's power grab has drawn little more than a collective shrug.
Given Latin America's long tradition of noninterference in neighbors' affairs, this is not entirely unexpected. And it's hardly chivalry: Offering the rogue next door a pass is a down payment on diplomatic indulgences at home. This reciprocity gave former Venezuelan leader Hugo Chavez a freer hand to stifle dissent, bully businesses, and game elections -- as long as Venezuelans were allowed to vote.
Fortunately, that diplomatic diffidence may be changing. Venezuela's slide from crisis to chaos has galvanized the new centrist governments in Argentina, Brazil and Peru. Brazil's Foreign Minister Jose Serra is spearheading a factious campaign to block Venezuela from taking the rotating chair of the regional trade alliance Mercosur, while 15 member nations of the Organization of American States have called on Venezuelan President Nicolas Maduro not to stonewall the opposition's drive for a recall vote.
And yet the diplomatic offensive has yet to focus beyond the borders of the Bolivarian republic. Such selectivity has encouraged other aspiring authoritarians. Consider Ecuador's Rafael Correa, whose acolytes are gathering signatures to abolish term limits. Their Twitter handle: #RafaelAlwaysWithYou.
But few national leaders have played the game of perma-power as well as Ortega. "In a way, Ortega has become the classic Latin American patriarch, so convinced of his own prowess that he can get away with anything," said Michael Shifter, president of the Inter-American Dialogue.
In office since 2007, Ortega marshaled his allies to amend the constitution in 2014, clearing the way for him to seek reelection indefinitely. In June, Nicaragua's ever-obliging supreme court deposed a leading rival politician and this month ruled to remove 28 opposition legislators from office, leaving Ortega virtually unchallenged in November. Just in case, Ortega also banned outside election observers.
Even without these hardline measures, almost no one expected Ortega to lose. That's because while tightening his grip, he also buoyed his ratings by keeping the economy humming, creating just enough jobs and boosting trade. Nicaraguan streets are largely safe from violent crime and free of the drug cartels that have ravaged other Central American cities.
Ortega's war on drugs also won him favor in Washington, and his fiscal parsimony, a nod from the International Monetary Fund. "Ortega knows the audience," Eric Farnsworth, vice president of the Council of the Americas, an advocacy group, told me. "He found a way to reduce democratic space in Nicaragua and still maintain strategic relations."
Lately, those relations are looking strained. The U.S. State Department recently warned against Ortega's moves to eviscerate the political opposition, as did the OAS's Inter-American Commission on Human Rights.
Such statements are encouraging news. Whether Managua's supremo will feel the pressure is another matter.
To contact the author of this story:
Mac Margolis at mmargolis14@bloomberg.net
To contact the editor responsible for this story:
James Gibney at jgibney5@bloomberg.net
Before it's here, it's on the Bloomberg Terminal.
LEARN MORE