view
Israel's Army Seeks Trust Through Tuition
Criticism mounts as some Israelis avoid service.
by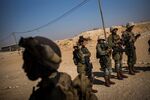 Israel's army announced plans this week to expand its program that pays college tuition for discharged combat veterans. The army has long offered such perks to soldiers from elite units, but will now offer the assistance to all combat soldiers, as well as to soldiers who are recent immigrants or from minority groups or underprivileged backgrounds. Chief of Staff Gadi Eisenkot said he hoped to expand the program to all soldiers, if the money can be found.
Although annual tuition at Israel's public universities may seem very low by American standards -- about 12,000 shekels ($3,100) -- it is higher than in many European countries and still a challenge for many middle-class Israelis. The news will thus be welcome.
Why, however, make the announcement now? "This is what will build up the army," Eisenkot said, perhaps intentionally obliquely. Eisenkot may have hinted at his true intentions when he said, a few weeks earlier, that "the greatest threat to the IDF is the loss of the public's trust."
The IDF has long been a hallowed institution. Criticism of the "people's army," in a country under constant threat and in which there has always been universal draft, was once considered a violation of a fundamental Israeli ethos.
Those days, however, are long gone. Although universal in theory, the draft is anything but that. The vast majority of ultra-Orthodox young men do not serve; neither do Israeli Arabs. Increasing numbers of secular Israelis, largely around Tel Aviv, are dodging the draft. Those who do serve, and their parents, increasingly speak of the importance of an "equal sharing of the burden," a phrase now ubiquitous. For many Israeli families, the unequal sharing of the burden has cast a cloud over the IDF.
So, too, has the army's shifting responsibilities. During the First and Second Intifadas, the army was charged not with fighting traditional battles against standing armies, but with putting down what the world saw as a civilian uprising. There was no glory to be had in those battles, and some of the IDF's measures aroused the outspoken hostility of the political left. In recent years, as the army has dismantled illegal outposts of Jewish settlers and sought to prosecute soldiers for violence against Arabs, it has been the right that has cried foul.
The trial of Sergeant Elor Azariah, charged with shooting and killing an already subdued terrorist, is the most recent case in point. Azariah, protesting that the shooting was justified, insisted in front of a military court that the top brass "had thrown him to the dogs." Azariah's father accused the military court of bias, which would also once have been unthinkable. Prime Minister Benjamin Netanyahu, in what constituted an overt sign of support for the defendant, considered meeting with Azariah's father. That would have evoked widespread condemnation, however, and the ever-savvy Netanyahu dropped the idea. He had made his point, however.
Should the public continue to sour on the IDF, Israel will face a serious challenge. Few countries must maintain their revolutionary enthusiasm and spirit of sacrifice for seven decades. Israel has had to, and that is unlikely to change. Most Israelis have despaired of any deal with the Palestinians in the foreseeable future. In just the past few weeks, the Palestinian Authority announced plans to sue the U.K. over the 1917 Balfour Declaration, a gesture that showcases the Palestinian Authority's continuing objection to the mere idea of a Jewish state. President Mahmoud Abbas' Fatah Party then boasted on its Facebook page that it was responsible for the killing of 11,000 Israelis. And most recently, the Israeli press noted with sad interest that a Palestinian man who rushed to the assistance of a rabbi who had been shot by a terrorist was fired from his job for helping a Jew.
None of that presages a deal any time soon. With Hezbollah and Hamas armed to the teeth and digging tunnels, and with Iran still pursuing a nuclear weapon, Israelis need not only their army but also a renewed devotion to its excellence.
In some ways, ironically, this tuition plan may exacerbate the problem. Eisenkot is playing into the "ask what your army can do for you" syndrome, acknowledging that the more classic Israeli attitude which demanded that young people "ask what they could do for their army" has largely faded. The implications of that shift in attitude for Israeli society at large could be profound for a state that is like to have to battle for its existence for as far as the eye can see.
To contact the author of this story:
Daniel Gordis at danielgordis@outlook.com
To contact the editor responsible for this story:
Stacey Shick at sshick@bloomberg.net
Before it's here, it's on the Bloomberg Terminal.
LEARN MORE