Share the View
Lies and Labor Statistics
A daily digest of opinions and analysis from Bloomberg View.
by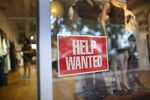 What's Really Wrong With the Unemployment Rate
The U.S. joblessness rate has fallen below 5 percent, but it doesn't feel like the economy is humming along at 1997 levels. What gives? Justin Fox bats down the conspiracy talk, instead seeing a lesson in America's long, flawed history of collecting employment statistics. 
A Modest Olympic Proposal
The first five days of the Rio Olympics have gone off smoothly, but host cities almost always have regrets. Instead, why not simplify things by picking a permanent host city? Megan McArdle has the perfect suggestion. 
Japan's Emperor Has a Message About the Constitution
When 82-year-old Emperor Akihito delivered a surprise address to the nation Monday, abdication wasn't the only thing on his mind. The Bloomberg View editorial board says his speech cast a shadow over Prime Minister Shinzo Abe's worrisome plan to change Japan's constitution.
Trump's Campaign Shows the System Isn't Rigged
Donald Trump says the establishment is out to get him, and a good number of his supporters agree. But if corrupt forces call all the shots, Francis Wilkinson wonders, why hasn't the IRS leaked Trump's mysterious tax returns? Why haven't Melania's contested immigration records become public? In reality, he says, no candidate depends more on the fairness and professionalism of the government than Donald Trump.
Ritholtz's Reads
MIT, NYU and Yale are sued over retirement plan fees (NYT)
Are negative rates backfiring? Here's some early evidence (WSJ)
No easy choices for investors looking to buck the herd with contrarian funds (Investment News)
(Read Barry Ritholtz's full daily news roundup.)
Bloomberg Gadfly 
(Read more from BV's sister site for fast business commentary.)
Get Share the View every morning in your inbox. Click here to subscribe.
To contact the author of this story:

Before it's here, it's on the Bloomberg Terminal.
LEARN MORE