Wall Street
Fannie and Freddie Will Be Profitable After Their Next Bailouts, Too
Nationalizing the mortgage market has been weird but lucrative.
by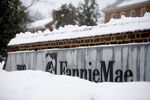 The Federal Housing Finance Agency released the results of the annual stress tests for Fannie Mae and Freddie Mac on Monday, and the report is a nice little milestone. For the first time, the crisis-era government bailouts of the government-sponsored entities, combined with their hypothetical future bailouts, are profitable for the government. Here's the accounting 1 :


The government put $187.5 billion into Fannie and Freddie. It has gotten back $246.7 billion, so it's up $59.2 billion. In the "severely adverse scenario" of the Dodd-Frank stress tests, it will have to put in another $49.2 billion. That will still leave it with a cool $10 billion in profit.
QuickTake Fannie Mae and Freddie Mac
Now I am cheating here a bit. Strictly speaking, the stress tests found that "Fannie Mae and Freddie Mac could need as much as $125.8 billion in bailout money from taxpayers in a severe economic downturn." That number is bigger than my $49.2 billion. The difference is a $76.7 billion "impact of re-establishing valuation allowance on deferred tax assets." Basically, Fannie and Freddie lost a lot of money in the past, which reduces their income taxes in the future, unless they don't have income in the future, in which case it doesn't. And they count the future tax reductions as an (enormous) asset on their balance sheets, unless they don't expect to have income in the future, in which case the asset goes away, reducing their equity and requiring -- perhaps -- another bailout. The FHFA ran the stress tests two ways, both assuming that the deferred tax asset went away and required more bailout funds, and not. The Fannie/Freddie deferred tax assets got quite a workout in the last bailout, and I can only assume that any future bailout would involve lots of contortions around them, but really who cares. The disappearance and reappearance of the deferred tax assets are not a real cash expense, and if everyone just agreed to ignore them, nothing in the world would be any different. 2 So let's just ignore them. 
The FHFA might be cheating here a bit, too, in the boring sense that any time a government agency releases stress test results, you can complain that the test wasn't stressful enough. The 2016 stress test scenario "is based upon a severe global recession which is accompanied by a period of elevated corporate financial stress and negative yields on short-term U.S. Treasury securities," which sounds bad-ish, but which seems to leave Fannie and Freddie curiously untouched. The scenario results in credit losses equal to 0.56 percent of their combined portfolio, meaning that for every $100 of loans that they own, Fannie and Freddie would get back $99.44 even in a "severely adverse" stress scenario. That seems ... maybe ... a little generous? For "severely adverse"?
But I don't make the stress test rules, and this stress test says another crisis would cost taxpayers just $49.2 billion in new Fannie and Freddie bailout money, less than the taxpayers have made in profits on the last bailout. And then, of course, after the new bailout, taxpayers would presumably go back to raking in money from Fannie and Freddie, and end up even further ahead. Until the next bailout, world without end.
There is a weird ... idea? meme? accounting error? ... that says all of this is somehow a risk to the taxpayers that can be solved by giving Fannie and Freddie more money now. The way Fannie and Freddie work now is that, in round numbers, they operate with zero capital 3 : Any profits that they make each quarter go to the Treasury, and if they have a loss in a quarter, the Treasury makes up the difference. In recent years they've had profits and returned money to Treasury. (Thus the $59.2 billion of government profits.) But it's always possible that in the future they will lose some money, and Treasury will have to come up with the extra money. For instance, if the stress test scenario occurred, Treasury would have to come up with an extra $49.2 billion. It would still be ahead, but less ahead.
That's true: The government, in every practical sense, "owns" Fannie and Freddie, so it's at risk if they lose money. The weird part is the idea that the government can avoid this risk by just letting Fannie and Freddie keep all the money that they make. This is called "building capital," and the idea is basically that if, instead of paying that $59.2 billion to the Treasury, Fannie and Freddie had kept it, there would be much less risk that Treasury would have to come up with $49.2 billion to bail them out in the future.
Which, again, is true. It's just that then Treasury wouldn't have the $59.2 billion. Getting $59.2 billion and giving back $49.2 billion of it still leaves you with $10 billion. Just never getting the $59.2 billion in the first place is strictly worse. 4
But it is easy for me to say that, because I think of Fannie Mae and Freddie Mac as wholly owned subsidiaries of the U.S. Treasury. This makes the analysis easier. For instance, the stress tests aren't about whether Fannie and Freddie "could need as much as $125.8 billion in bailout money from taxpayers," or whatever; they're just about how much that division of the government could lose in a recession. (In the same way that, when the U.S. Postal Service loses money, no one calls it a "bailout." 5 It's just a loss.) It's of no interest whether the division has a lot of capital, or a little capital, or no capital, or negative capital: The U.S. government has plenty of money, and that's the relevant unit of account.
Not everyone agrees. I mean, Fannie and Freddie aren't wholly owned subsidiaries of the government: They have common and preferred stock outstanding, and while the current terms of the bailouts prevent them from ever making payments on that stock, the shareholders have been suing for ages to try to reverse those terms and get their money back. They argue, with some justification, that the bailout terms are unfair and illegal, and that they should get back their rights as owners.
The government is fighting those lawsuits, but it too can't quite bring itself to say that Fannie and Freddie are fully controlled agencies of the government. 6 Partly this is an accounting issue -- by not consolidating Fannie and Freddie, the government doesn't have to count their debt toward the debt ceiling -- but it is also sort of a political-philosophical issue. Nobody ever exactly made the choice to permanently nationalize the entire U.S. mortgage market. Fannie and Freddie are in "conservatorship," a supposedly temporary state of government protection that happens to have lasted for the better part of a decade. There's no mandate or plan to keep them nationalized forever, and everyone has to talk piously about the importance of returning private capital to the mortgage markets. 7  
Everyone kind of knows the basic mechanics of how to do that 8 : Create some privately owned mortgage companies, either from scratch or from the bones of Fannie and Freddie, to buy or guarantee mortgages. Raise capital for those companies from investors, perhaps giving existing Fannie/Freddie investors some credit for their existing holdings, perhaps not. Regulate those companies, and make sure they're well enough capitalized to absorb any reasonable credit risk in the mortgage market. Let those companies buy some sort of backstop from the government, at a fair price, to further socialize the credit risk of mortgages. 
And yet people have been talking about this for ages, and nothing much has happened. 9  One reason for this is pretty obvious: For the government, keeping Fannie and Freddie as a branch of the government is pretty great. They're easy to control, available as an instrument of housing policy, and, crucially, profitable. Perhaps things will change if Fannie and Freddie run into trouble again. But the latest stress tests suggest that even that may not change anything.
To contact the author of this story:
Matt Levine at mlevine51@bloomberg.net
To contact the editor responsible for this story:
Brooke Sample at bsample1@bloomberg.net
Before it's here, it's on the Bloomberg Terminal.
LEARN MORE