view
Republicans Can Give Up on Reining In Trump
He knows when his attacks have gone too far. But he can't stop himself.
by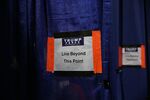 The Republican leaders now imploring Donald Trump to avoid "distractions" are wasting their time. These aren't distractions. They are the real Trump.  
It's not in his DNA to back down, whether it's from demeaning the parents of an Army captain killed in Iraq or from lying about his mockery of a disabled reporter. Instead, the Republican presidential nominee doubles down when caught in mistakes or outright lies.
And he does this even though he is well aware of the outrage his behavior causes.
The major fact-checkers, PolitiFact and the Washington Post's Glenn Kessler, have found that Trump, far more than any other candidate, consistently makes claims that are demonstrably false. He wasn't against the Iraq war or the Libyan intervention, though he continues to claim that he was. He knew Russian President Vladimir Putin "very well" when he thought it an advantage; now he says he never met him.
Most politicians exaggerate; a number selectively lie. Trump is of a different order, holding firm to clear misrepresentations, calculating that the media and his political opponents will move on, and that his voters will side with him over a "dishonest press," no matter what.
While that strategy has gotten him this far, there are signs that some lines can't be crossed.
His treatment of Khizr and Ghazala Khan is one example. Another is his continuing denial that he ever ridiculed Serge Kovaleski, a New York Times reporter who has arthrogryposis, a disability that distorts joint functioning.
It all started with Trump's charge last fall that he saw "thousands and thousands" of Muslims in New Jersey cheering after the 9/11 attacks. When challenged, he cited a Washington Post article by Kovaleski as supposedly confirming his charge.
Except it didn't, so Trump went after him, claiming he had changed his story and, with arms flailing and hands tightly clenched, did an animated imitation of the reporter's physical traits.
Trump denied doing this despite the video of him doing so. Several months ago, unprompted and repeatedly in an interview with the Washington Post, he held to that position. Now the candidate insists, despite a "world-class memory," that he doesn't remember ever meeting Kovaleski. "Here's the story, I didn't know him, folks," he said on Wednesday night in Florida.    
As a reporter for the New York Daily News several decades ago, Kovaleski recalls he interviewed Trump, conservatively, a dozen times. He rode with him on the now defunct Trump Air and once interviewed him with another reporter for more than an hour in Trump's office. "It's inconceivable someone would forget Serge," says Andy Gluck, the reporter who was with Kovaleski in that long interview.
Let's assume that Trump has been interviewed by hundreds, make it thousands, of reporters over the years. "You know how many of these people I meet on a daily basis?" he said last night. It's easy to forget most. You don't forget the one who has a visible physical disability, and whose arm movements you can imitate years later.
So why does the candidate not let it go? When the Clinton Super Pac was preparing anti-Trump ads, it conducted focus groups showing the most overwhelming negative reaction was of him mocking the reporter with disabilities. At one blue-collar bar in Cleveland, and surely elsewhere, even Trump sympathizers were turned off by this. And he knows it. This is an issue that cuts across parties. Every economic and social stratum is touched by a family member or friend with disabilities. 
Most politicians, most people, if caught in a dreadful act like this, would apologize, explain they were consumed by the passions of the moment, and try to move on.  Whether the target is a person with disabilities or a family that lost a son in war, however, this is not what Trump does. And it's not what he will do in the inevitable incidents to come.
To contact the author of this story:
Albert R. Hunt at ahunt1@bloomberg.net
To contact the editor responsible for this story:
Katy Roberts at kroberts29@bloomberg.net
Before it's here, it's on the Bloomberg Terminal.
LEARN MORE