Companies
Adidas Finds Its Winning Formula
The sportswear company's unpopular CEO is leaving on a high note.
by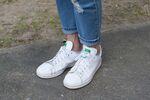 Herbert Hainer is the longest-serving chief executive officer of a major German company: He has been running Adidas, the sportswear maker, since 2001. In January, when the company announced the name of his successor, its share price leaped in jubilation: Investors were unhappy with him. But now, as Hainer serves out his final quarter as CEO, Adidas is set to have a record year and show a nine-digit annual profit (in euros) for the first time in its history.
On Wednesday, Adidas announced that its U.S. sales jumped 26 percent in the quarter than ended in June. It's the lackluster performance in the U.S. that cast a shadow over Hainer's tenure and made investors push for his resignation. They were too impatient: Adidas shares have strongly outperformed the German stock index in the last year as they almost doubled in price.
This is a victory for the old school, though achieved through 21st century savvy. Hainer is 62, and two of the big growth drivers at Adidas are the Stan Smith sneaker -- made since the mid-1960s and endorsed by tennis player Smith in 1971 -- and the Superstar basketball shoe, made since 1969. 
Less than two years ago, it looked like Adidas was faltering. Its growth had stalled, and it had big exposure to Russia, whose currency was in free-fall. In the U.S., meanwhile, not just Nike but the upstart Under Armour was beating the German company. Third place was humiliating for an industry pioneer. In the last quarter, though, Adidas won back the second spot.
Nike, of course, is still far ahead -- but at least Adidas sales are on their way up, and not just in North America. In Western Europe, where its market share is much closer to Nike's, it's growing faster than its U.S. rival. In Greater China, where their positions are also close, they are growing at about the same rate. And Adidas turns over inventory faster than Nike does.
As the Adidas board looked for a successor, Hainer listened to the criticism. He cut the Russian presence, beefed up online sales and took a more aggressive approach in the U.S., signing up more athlete sponsorship deals, opening an American design studio and successfully fighting a patent battle with Nike. A collaboration with rapper Kanye West on the Yeezy series of sneakers has been so successful that some models from that line now sell on eBay for more than $1,000 a pair. Mark King, who has been running the firm's U.S. division since mid-2014 aimed to make Adidas "look cool again in the U.S.," and succeeded, using, among other things, a strong Instagram presence.
In March, Hainer presented a plan to bring sneaker manufacturing back from Asia to where most of the sales are by using robots, perhaps even in stores to construct the exact kind of sneaker the customer wants. You'd think he was a Silicon Valley start-up enthusiast rather than a German chief executive who has worked for the same company all his life.
Yet it is the classic styles that have driven the "cool" turnaround. The Stan Smith and the Superstar may include some new technology -- Adidas has to keep up with the competition on running comfort -- but they look the same as decades ago, when the company was still run by the son of its founder, Adi Dassler.
Serious marketing effort went into relaunching the Stan Smith. As usual in the athletic shoe business, it involved getting the right people to wear it. Yet essentially it's the same product as 50 years ago.
This has to do with fashion cycles, of course, but also with the lasting appeal of a simple, well-made object, in this case, a sturdy, clean-lined, practical German shoe. Customers may be buying it because of its association with a celebrity or because all the other kids wear it and corporate executives can build entire marketing edifices around it. But as Bloomberg Gadfly's Andrea Feldsted notes, fashion can be fickle; none of it will make any sense without the underlying quality and simplicity.
Whether or not he puts robots in stores or makes even better use of Snapchat than Hainer's team did, that is the main bit of wisdom Hainer is passing on to Kasper Rorsted, the Danish executive who will replace him in October. If Rorsted loses sight of that lesson, Adidas will fall much faster than it did during Hainer's dark days.
To contact the author of this story:
Leonid Bershidsky at lbershidsky@bloomberg.net
To contact the editor responsible for this story:
Therese Raphael at traphael4@bloomberg.net
Before it's here, it's on the Bloomberg Terminal.
LEARN MORE