view
Diplomacy, Tact and Russian Hacks
A daily digest of opinion and analysis from Bloomberg View.
by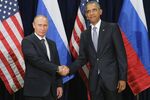 Why Russia Keeps Getting Away With Hacking America
China, Iran and North Korea have all faced consequences for cyberattacks on U.S. targets, but so far the Kremlin has gotten a pass. As revelations about apparent Russian hacks continue to emerge, Eli Lake considers the rationale for the Obama administration's relatively hands-off approach.
China Needs to Learn to Put the Customer First
Chinese automakers are selling more cars than ever, but Chinese car buyers are increasingly unhappy with the process. Adam Minter sees a lesson for a country in transition: To build a services-based economy, first concentrate on improving service.
Europe's Stress Tests Fail Again
European regulators released their long-awaited assessment of 51 banks late last week, and while the exercise wasn't completely worthless, it left out a lot. The Bloomberg View editorial board says that if the continent's leaders want to improve their economies, they should start with an honest accounting of the financial system's problems.
Now, Get Ready for an Unpredictable General Election
With roughly 100 days until Americans vote in November, anything could happen (and it seems like anything will). Albert R. Hunt lays out the trends and countertrends shaping this year's exceptionally unusual contest.
I Can Be Baited With a Tweet, and That's OK
A man who loses his temper on Twitter can't be trusted with nuclear weapons, Hillary Clinton declared at the Democratic National Convention -- but Donald Trump is far from the only person with anger issues on social media. As tech companies experiment with new ways to shield users from abuse, Leonid Bershidsky warns that trolls may be the price we pay for free and vigorous debate.
Ritholtz's Reads
Elon Musk says it's "pencils down" for Tesla's Model 3 (Bloomberg) 
See also: Why do we haggle for cars? (Priceonomics)
A fish so coveted people have smuggled, kidnapped and killed for it (Longreads)
(Read Barry Ritholtz's full daily news roundup.)
Get Share the View every morning in your inbox. Click here to subscribe.
To contact the author of this story:

Before it's here, it's on the Bloomberg Terminal.
LEARN MORE