Editorial Board
Campus Carry's Unstable Chemistry
What happens when you mix youth, alcohol and guns?
by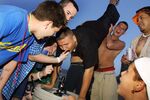 There are more than 1 million students enrolled in public colleges and universities in Texas. Most drink alcohol. According to data from the National Institutes of Health, more than a third of college students are binge drinkers. As of Monday, if they are properly licensed, they can legally carry concealed, loaded firearms on campus.
Private institutions in Texas may continue to ban guns. It's a testament to the policy's folly that only one has chosen not to. Even the date of the law's implementation carries an unsubtle warning: It's the 50th anniversary of the tower shooting at the University of Texas, the nation's first campus massacre.
The capitulation of some state capitals, including Austin, to the ideological demands of the gun movement has been one of the signature political fits of an erratic era. Nine states now allow concealed weapons to be carried on public postsecondary campuses.
William McRaven, chancellor of the University of Texas system, last year tried to warn Texas politicians away from this precipice. "There is great concern," he wrote at the time, "that the presence of handguns, even if limited to licensed individuals age 21 or older, will lead to an increase in both accidental shootings and self-inflicted wounds."
McRaven, a former Navy admiral, wasn't blowing smoke. On American college campuses, almost 700,000 students between the ages of 18 and 24 are assaulted each year by students who have been drinking. Campus rape is likewise exacerbated by alcohol. Another 1,800 college students die each year from alcohol-related injuries that are unintentional.
Now, take this campus culture and add more guns. It doesn't take a research paper -- though such reports surely exist -- to conclude that the results could be disastrous.
In pursuing their misbegotten crusade, Texas lawmakers have joined three volatile elements: youth, alcohol and guns. What they don't have is a way to keep the ingredients from blowing up.
--Editors: Francis Wilkinson, Michael Newman
To contact the senior editor responsible for Bloomberg View's editorials: David Shipley at davidshipley@bloomberg.net .
Before it's here, it's on the Bloomberg Terminal.
LEARN MORE