view
Is There a Place for Uplift in U.S. Politics?
A daily digest of opinions and analysis from Bloomberg View.
by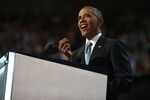 The Nonpartisan Case for Hillary Clinton
Speaking on night three of the Democratic National Convention on Wednesday, Bloomberg LP founder Michael Bloomberg made an appeal to his fellow political independents: "To me, this election is not a choice between a Democrat and a Republican. It's a choice about who is better to lead our country right now: better for our economy, our security, our freedom and our future. There is no doubt in my mind that Hillary Clinton is the right choice." 
Democrats Reinvent Themselves as the Values Party
Also speaking on Wednesday were Barack Obama, Joe Biden and Tim Kaine, in an evening seemingly designed to emphasize how "normal" the Democratic Party is. Jonathan Bernstein says the night -- peppered with references to God and country -- suggested the higher ground on religion and morals has shifted away from the Republicans, while Al Hunt and political strategists Vin Weber and John Sasso say Obama's uplifting speech will likely give Hillary Clinton a boost. 
A New Normal for the U.S. Economy: Slow and Steady
Good news, mostly! The industrial recession that just ended in the U.S. didn't spread to other sectors -- the first time that's happened in American history. Conor Sen says that shows the economy is rebuilding with resilience.
Maybe Negative Yields Are a Sign of Prosperity
Globally, nearly $10 trillion in securities have yields below zero -- an unusual state of affairs which makes some analysts very nervous. Tyler Cowen offers a more optimistic view: Think of super-safe securities with negative yields as inexpensive insurance on the world's rising wealth.
Can the World Deal With a New Bank Meltdown?
But here's a grim perspective: Satyajit Das warns that the international financial system may be teetering on the edge of another disaster. Today there are $3 trillion in stressed loan assets worldwide, compared with just $1 trillion of U.S. subprime loans that triggered the 2009 crisis -- and even worse, the tools historically used to solve banking crises no longer seem to be working.
Ritholtz's Reads
Why pensions' last defense is eroding (WSJ)
Reclaiming the idea of shareholder value (HBR)
Who bought U.S. stocks after 2008? Don't look close to home for the answer (Morningstar)
(Read Barry Ritholtz's full daily news roundup.)
Bloomberg Gadfly 
(Read more from BV's sister site for fast business commentary.)
Get Share the View every morning in your inbox. Click here to subscribe.
To contact the author of this story:

Before it's here, it's on the Bloomberg Terminal.
LEARN MORE