2016 Elections
Hey, Hillary, How About Showing Us Your Lighter Side?
In politics, wit can work. Ask Kennedy, Reagan or Obama.
by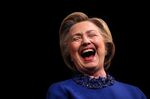 When Hillary Clinton takes center stage Thursday night as the 34th presidential nominee of the Democratic Party, she won't have to demonstrate her competence and can't do much about her trust gap. But there is a way she could help make her case: by showing a little humor.
Clinton will try to lay out a vision and convince voters that even a political veteran like her can be an agent of change. That's standard stuff. Less predictable would be a few lighter moments, maybe even some self-deprecation, to redraw the familiar wonkish caricature.
Friends say she has a good sense of humor that she rarely shows in public. I've watched her during her years in the U.S. Senate and as secretary of state and have followed her presidential bids in 2008 and 2016, but I've never covered her regularly and don't know her well. I have been present at several small dinners where she displayed a lighter touch.
The first was in the spring of 1992, not long after a scandal sheet, the Star, wrote that a cabaret singer, Gennifer Flowers, claimed she had a long sexual affair with Bill Clinton. The Clintons denied it but it rattled the campaign. (Years later Bill Clinton, under oath, acknowledged it.)
At a private Washington dinner after the New Hampshire primary, Hillary Clinton surprised the eight attendees by bringing up the Flowers story herself. She told about getting a ribald call from Edwin Edwards, the rascal governor of Louisiana and a man who made no secret of his own womanizing.
"I hear that paper paid the woman $500,000 for that story," Edwards began. Clinton said she confirmed that was the rumor. She said Edwards then proposed a financial arrangement of his own with the tabloid press.
"Hillary, if they want to come after me we can break those rags," she said he told her.
Belly laughs all around.
When Bill Clinton became president, he put his wife in charge of overhauling the health care system. I was part of a group of what we proudly called political hack writers -- strangers to deep policy matters -- that regularly had dinners with leading politicians. We decided to invite her to dinner; she surprised us by accepting.
As she was explaining the intricacies of health care, she cited a Brookings Institution expert, the economist Henry Aaron. From the side of the table one well-lubricated colleague bellowed, "What the hell does a baseball player know about health care?"
Some of us cringed. She laughed heartily.
Now comes the most important speech of her life, not an occasion that lends itself to a spray of laugh lines. But there is room for wit, especially at her own expense, a rhetorical hallmark of popular modern presidents like John F. Kennedy, Ronald Reagan and Barack Obama.
Some levity would even give her a competitive advantage. The only humor employed by her Republican opponent, Donald Trump, is of the towel-snapping-insult variety. He's not capable of self-deprecation as he sees nothing to deprecate.
To contact the author of this story:
Albert R. Hunt at ahunt1@bloomberg.net
To contact the editor responsible for this story:
Jonathan Landman at jlandman4@bloomberg.net
Before it's here, it's on the Bloomberg Terminal.
LEARN MORE