Cars
Why VW Got Away With Not Compensating Europeans
The German carmaker is set to pay $14.7 billion to drivers of its standards-evading cars, but only in the U.S.
by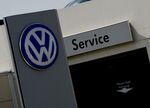 A U.S. federal judge has given a preliminary green light to Volkswagen's $14.7 billion settlement for cheating on emission tests. This means U.S. owners of VWs fitted with "defeat devices" will get about twice the market value of their cars in a buyback, and the 482,000 vehicles themselves will probably be scrapped. Meanwhile, in Europe, the owners of 8.4 million cars will get nothing, and will just keep driving their vehicles.
There are two ways to look at this. One is to conclude that Europeans are unfairly being denied compensation because of the European Union's failure to protect consumers and Volkswagen's political power as a major European company. The other approach would be to say that the U.S. culture of predatory litigation and the country's unnecessarily stringent environmental regulation have handed half a million drivers an undeserved windfall.
Neither view is quite correct.
VW has admitted that it equipped its cars with illegal defeat devices-- but only in the U.S. In Europe, which has almost identical laws regarding such devices, it has dodged the admission -- and largely gotten away with it. 
Earlier this month, the U.K. Parliament's Transport Select Committee released a report explaining how this was possible:
The question of whether VW broke the law in the EU needs to be answered urgently. Throughout our inquiry we sought to identify who was responsible for resolving that dispute. We did not receive a definitive answer. The Secretary of State was initially relaxed about describing VW's software in the terms of an "illegal" defeat device but in a later evidence session Robert Goodwill MP, Minister of State, said the software was "outside the regulation" but was at pains not to define it as illegal. The Minister said the question of legality was a matter for the courts but he was not able to tell us for certain which authority would be responsible for initiating court proceedings. The Minister said, "to tell you whether that is illegal it would need to come before the courts, and it may well be the European Commission that takes that action."
The commission, however, has delegated the matter to national authorities, promising to consider the results of national investigations. European Union Industry Commissioner Elzbieta Bienkowska has only suggested that VW "should voluntarily pay European car owners compensation that is comparable with that which they will pay U.S. consumers" -- a call that was rejected by VW Chief Executive Officer Mattias Mueller, who explained that paying out such "arbitrary" compensation would bankrupt his company.
In the U.K., not much has been done to investigate whether VW's test-cheating software was illegal, according to the parliamentary report. In Germany, an investigation is ongoing, but the authorities have already allowed a simple software fix to the problem -- a fix VW has been offering throughout Europe. According to the company, it gets nitrogen oxide emission to a level compatible with EU standards, which are more lax than U.S. ones.
Since class action suits are rare in Europe and national authorities haven't cracked down on VW, the owners of the vehicles are out of luck compared with American owners. On the other hand, they are largely happy with their cars. In January, the U.K. parliamentary committee questioned Paul Willis, VW's managing director for the U.K., and he testified that the company had written two letters to each of the owners of 1.2 million affected vehicles in Britain offering the software fix. Only 40,000 contacted VW. 
There's an argument to be made that if the drivers are fine with their cars, and if they are allowed to keep driving them with or without the cheap software fix, they aren't really entitled to compensation. In the U.S., the authorities haven't accepted that fix or any other proposed by VW. The cars simply shouldn't be on the road.
Whether European governments should try to penalize VW as harshly as the U.S. authorities are doing is debatable. They would be punishing the company for decades of European environmental policy. Europe has long sought to suppress CO and CO2 levels to fight climate change, but it has been less strict on NOx -- the pollutant produced in bigger quantities by diesel engines than by gasoline ones -- because diesels helped save fuel. The U.S. took the opposite approach: It cared less about climate change than about smog, of which NOx is a major element. VW cheated, but its powerful diesel program was a response to European regulation.
In the U.S., VW's "clean diesel" engines were an alien concept. They had to be advertised more vigorously than in the home market. The deceptive advertising campaign is perhaps the most important reason that U.S. owners are entitled to compensation more than Europeans: They were sold their cars under false pretenses. Still, being paid twice the market value of the cars just because of this is, perhaps, excessive.
The U.S. legal system, with its powerful plaintiff's lawyers, has made sure the VW drivers received a generous payoff. The lack of cohesion within the EU has made sure the drivers got nothing. A fair compensation probably would be somewhere between these two poles. The world, however, isn't fair, and this has both helped and hurt VW. I'm not sure this is the lesson the company needed to learn from its crisis -- but this is the one it received.
This column does not necessarily reflect the opinion of the editorial board or Bloomberg LP and its owners.