2016 Elections
Philadelphia's Challenge to Conservative Mythology
The ornate City Hall is a symbol of government extravagance. And glory.
by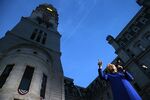 My hotel room in Philadelphia features a magnificent view of City Hall. Each day, I've stood at the window and marveled over it; on Tuesday I made a visit. Constructed over the last three decades of the 19th century, the building is larger than the U.S. Capitol. The Washington Monument is only seven feet taller. City Hall's 700 rooms are constructed of 88 million bricks covered in granite and marble. Some walls are 25 feet thick.
And ooh-la-la is it ornate. The City Hall website refers to its design as "High Victorian Picturesque Eclecticism," though it's more commonly called French Second Empire. The most exquisite rooms feature gold leaf on the ceilings, marble columns, mosaic tile. Inside and out, there are more than 250 relief and free-standing sculptures. And, of course, the whole enterprise is topped by the statue of William Penn, who still commands the skyline of the city he lovingly designed.
I asked Greta Greenberger, director of tours and the visitor center at City Hall, why a city with fewer than 700,000 souls at the time the building was commissioned needed its government housed in what was planned to be -- and indeed became -- the largest occupied building in the entire world. She had a short answer: "Because of pride."
The conservative obsession with small government, and its more recent evolution into hatred of government, is hard to square with this obstinate fact smack in the middle of the City of Brotherly Love. City Hall wasn't constructed without controversy. Viewed with a Quaker's strict and squinting eye, it was no doubt a gaudy excess. The funds needed to erect such a phenomenon were not small to begin with, and grew with the passing years.
Yet the new Americans who built Philadelphia into a global powerhouse felt their government should project power and majesty as well.
Democrats convening this week in the city can find sustenance in this structure. Its Scottish architect was an immigrant. Alexander Milne Calder, who designed all the sculptures, was one as well. The human figures on the building include Asians facing East, Africans to the South, American Indians to the West, Europeans to the North. Everyone has a place.
Philadelphia is no longer the dynamic force it was, and perhaps liberal overreach or dysfunction deserves some blame along with the inevitable changes of economies and populations. But City Hall, its grandeur still visible beneath the strained budgets of a far less successful city, poses a fundamental question for our democracy: How can you have pride in self-government if you honor only the self?
To contact the author of this story:
Francis Wilkinson at fwilkinson1@bloomberg.net
To contact the editor responsible for this story:
Katy Roberts at kroberts29@bloomberg.net
Before it's here, it's on the Bloomberg Terminal.
LEARN MORE