view
Democrats Try to Make Hillary Likable Again
The convention is designed to remind voters of the qualities they once saw in her.
by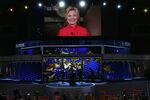 The program of the Democratic National Convention on Tuesday, capped off by a Bill Clinton speech that took up almost the entire broadcast network hour, was about one polling chart: the one that shows Hillary Clinton's favorable ratings at about 60 percent throughout President Barack Obama's first term and that she's running at a little under 40 percent now.
Donald Trump has never been popular (certainly not as a politician), and his campaign made hardly any effort to convince voters to like him last week at the Republican convention in Cleveland. Can anyone remember an endearing anecdote about Trump? Even the parade of his children to the podium produced more policy-like talking points than humanizing stories.
QuickTake How the U.S. Elects Its Presidents
But Hillary Clinton has been popular before, and the Democrats are working on making her popular again -- at least with other Democrats and anyone else who might be open to voting for her.
Overall, they did an excellent job. Conventions are easy: The parties have months to plan, and a hall packed with people who want to believe, which in turn makes the event look good on TV. And there is no shortage of Hillary Clinton stories to tell. She has been active in public service for her entire adult life, and almost any long-term politician will have people ready to testify for them. 
Also, she has Bill. He remains a masterful convention speaker. His follow-up to his 2012 "Secretary of Explaining Stuff" convention speech was a long (long) tour of Hillary Clinton's life, focused on two themes: their happy family and her public service. It was -- just considered as a piece of electioneering -- gorgeous. Bill is an expert. He didn't make his points rapidly, but he eventually pounded them home: She's a real human being who is dedicated to the public. A listener. A problem-solver. A persevering fighter who gets things done. Story after story was eventually revealed to be supplying the supporting evidence for each of those propositions.
He did it with humor, with romance, with cold hard recitation of facts at times, with good spirits, and with a few sharp stabs at the Republican nominee. 
Of course, as with all such speeches, a bit of tidying up is required. We didn't hear about Bill's history of infidelity, and he may have fudged a few things in the story he told about his proposal. We were also treated to a (do I have to say "likely"?) whopper about how she never dreamed of running for the Senate in 2000 until New York politicians came to her and asked her to consider it. And, of course, there wasn't a word about any scandals, or even any policy setbacks while she was in the Senate or at the State Department. The campaign's job is to remind those who liked her four years ago of the reasons they liked her. 
Months ago, I predicted that Democrats would love their candidate and Republicans would love theirs, at least during the short sprint from the conventions to Election Day. Trump is so unusual that I don't think the prediction will hold, and evidently neither did the Republicans gathered in Cleveland, because they spent at least as much time bashing Clinton and Barack Obama as they did building up Trump. So far, Clinton's own favorables have languished, too.
But if I had to bet, I'd still say that Obama was correct -- she's "likable enough" and it's quite possible that she'll get a very healthy bump from the convention and take a comfortable lead that will last the rest of the campaign. If she doesn't, we're going to have a close election. 
One thing we can count on: If it's possible to get voters to like her, the Democratic convention will get it done. Normal parties and campaigns know how to do this.
To contact the author of this story:
Jonathan Bernstein at jbernstein62@bloomberg.net
To contact the editor responsible for this story:
Max Berley at mberley@bloomberg.net
Before it's here, it's on the Bloomberg Terminal.
LEARN MORE