Tech
Huawei Conquers the World, Except the U.S.
The Chinese smartphone maker is slowly gaining market leadership, challenging Apple's dominance.
by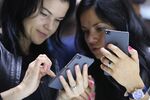 In Stockholm on Monday, Ericsson, the venerable Swedish company that has long been the leading maker of the infrastructure that underpins the world's mobile communications networks, announced that it had fired its chief executive officer, Hans Vestberg. In a not-unrelated development, the company reported last week that its first-half revenues were down 11 percent from the same period a year before, to $12.3 billion.