Editorial Board
Clinton's Confidence in Competence
Tim Kaine is a fine, even admirable, choice for vice president.
by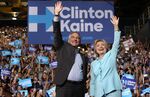 Hillary Clinton has fortified a political center that's been under steady assault. Just days after Republicans in Cleveland nominated a candidate claiming that everything everywhere is falling to pieces, Clinton made her choice for the Democratic vice presidential nominee.
Senator Tim Kaine of Virginia is no one's idea of a firebrand. A former mayor and governor, he is even-keeled, experienced and moderate. He lacks Senator Elizabeth Warren's rhetorical passion, and the choice doesn't qualify as historic. But he brings steady competence and an openness to compromise. Both traits will serve Clinton well in the months ahead, and in the White House should she win.
Kaine offers a little something for everyone, yet not too much for anyone. Born in the Midwest, he's a product of Harvard Law School. Like Vice President Joe Biden, he's a Catholic with complicated views on abortion, but he's pro-choice where it matters -- on public policy. He's opposed to the death penalty, but followed the law as governor, enabling executions to proceed. Having served as a missionary in Honduras in the 1980s, he speaks Spanish.
Kaine has spoken encouragingly of the Trans-Pacific Partnership, the pan-Asian trade deal that would benefit all the signatories, including the U.S., while serving as a check on the regional ambitions of China. It seems unlikely he will bolster Clinton's faltering support of the deal, but he should try.
A supporter of Dodd-Frank, he's called for greater flexibility in regulating smaller regional banks, which are not systemically risky but face new burdens all the same. A member of the Senate Armed Services and Foreign Relations committees, last year he joined Arizona Republican Jeff Flake in calling for a three-year authorization for military force against Islamic State, a necessary assertion of congressional power and accountability. Though he represents the home state of the National Rifle Association, he supports sensible gun regulation.
The selection of Kaine has disappointed many on the left. Clinton, in effect, resisted the temptation to make double-barreled history with an all-female ticket, or with the nation's first Hispanic vice presidential nominee. She went with competence -- and that's just fine. Admirable, even.
--Editors: Francis Wilkinson, Michael Newman.
To contact the senior editor responsible for Bloomberg View's editorials: David Shipley at davidshipley@bloomberg.net .
Before it's here, it's on the Bloomberg Terminal.
LEARN MORE