2016 Elections
Two Forecasts for the Democratic Convention
The next round probably won't be as chaotic as the Republicans', but expect a few similar themes.
by and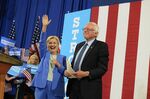 Bloomberg View columnists Ramesh Ponnuru and Megan McArdle discuss the week ahead at the Democratic National Convention in Philadelphia. (They talked about the Republican side here and here.) 
Megan McArdle: Well, that happened.
The disorganization and disunity of the Republican convention was topped off by a Trump speech from a convention stage that, as Christopher Ingraham of the Washington Post said, looked "like Triumph of the Will meets the Onion."
The speech Donald Trump gave felt appropriate to that setting, a 90-minute portrait of America-as-dystopian-hellscape, which could be rescued from its enemies only by the caring, yet steely, ministrations of our fearless would-be leader. The greatest enemy was, of course, Hillary Clinton, who is not just an enemy herself, but a sort of archvillain who empowers all the other enemies in our midst.
In many ways I expect the Democratic National Convention to be more of the same. Oh, I doubt that the convention will blazon the Clinton name larger than the American flag across the stage as she speaks. But you can expect her to paint a republic in crisis, one where women are practically indentured servants of their male managers, where the police routinely use civilians for target practice, and of course, where Republicans roam among us, tirelessly impoverishing the poor and oppressing the oppressed. Who can save us now? Only one person, of course. It's a bird! It's a plane! It's -- HILLARY RODHAM CLINTON!
That case will, of course, be a lot more challenging to make given that Barack Obama has been president for eight years -- which is why to hear Democrats talk, you'd often think that George W. Bush was just completing his fourth term in office. So they will spend the week pinning America's flaws on Republicans. One approach is to argue that Obama has made progress, but unfortunately, the depths of the Republican Dark Age will take more time to recover from. Another option is to claim, implausibly, that Republican obstructionism is all that is standing between us and an earthly progressive paradise. Left unexplained will be how Clinton can do any better; presumably, her supporters hope that Republicans will vanish in a puff of smoke come January 2017, like vampires exposed to holy water.
One thing I do expect to see more of is policy. The big keynote speeches this week ranged from Ted Cruz laying out first principles to Trump's free-association anxiety disorder. Clinton has a laundry list of stuff she wants to do, and since she is at her absolute weakest trying to deliver soaring rhetoric, I expect she will concentrate on two messages: Donald Trump is a dangerous lunatic, and so are the rest of the people in his party; and "here are 97 things you'll get from the government when I'm in charge."
I also expect the Democratic Party will be much less divided next week than the GOP was this week. Less divided, but not a truly united front. Bernie Sanders speeches are the more liberal-friendly version of Trump speeches: Everything that is wrong with the world is the result of some dire threatening enemy that my political opponents are cozying up to, but which I -- a brave outsider -- am willing to defeat on your behalf. The enemies are somewhat different. But the mood is the same, and that mood seems very prevalent in our country right now. I would be surprised indeed if Democrats do not cater to it a fair amount.
Unfortunately, just as with the Republicans, that will put them at odds with much of their donor and professional class, who don't want it all burned down, thankyouverymuch. Catering to either party's populist insurgency risks alienating swing voters who do not like militant protest or public disorder.
What will you be looking for as the Democrats gather next week? And what do you expect to see?
Ramesh Ponnuru: What I expect to see in Philadelphia is a Democratic party that is unified, professional, and much more liberal than most Americans. I expect it, as well, to be a party that believes it can afford to indulge its liberalism because it does not truly fear that Donald Trump will win the election.
This week has not given them any additional reason to fear that will happen. Trump's speech certainly had its effective moments; obviously there is a substantial audience for what he has to say about immigrants, trade, crime, and how the system is rigged against working people. But it's the same message that he has delivered for the last year, and Americans are already pretty familiar with it. It's a message that has fairly consistently left him trailing behind Clinton.
The Trump campaign obviously thinks that Americans are unhappy enough with the status quo that they will embrace him. But they thought the country was on the wrong track in 2012, too, and they still re-elected President Obama. They may think the system needs to change, but they still have to be persuaded that Trump is the change they need. I don't think Trump's speech went very far toward doing that, or that following it up with renewed ranting about Rafael Cruz's supposed involvement in the JFK assassination will either.
It seems to me that Clinton now has a relatively free hand. Next week we will see how she intends to use it.
To contact the authors of this story:
Megan McArdle at mmcardle3@bloomberg.net
Ramesh Ponnuru at rponnuru@bloomberg.net
To contact the editor responsible for this story:
Philip Gray at philipgray@bloomberg.net
Before it's here, it's on the Bloomberg Terminal.
LEARN MORE