Tech
Post-Brexit Rumblings Spook U.K. Tech Boom
It's hard for British start-ups to attract talent. Leaving Europe would make it harder.
by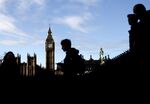 If you are under 35, possess an entrepreneurial spirit, speak Python and don't think of a vegetable when you see the word Celery, then it's likely you are in high demand. That's especially true in Europe, a labor market starved of tech talent. And it's why the U.K. will now have to work extra hard to retain your services.
Even before the U.K.'s vote to leave the EU, Britain's tech companies and start-ups struggled to fill engineering jobs. After Brexit, early indicators show, it's likely to get harder.
The U.K.'s tech industry may be small by U.S. standards, but broadly defined it employs around 1.5 million people and is growing 32 percent faster than the national economy while creating jobs at nearly three times the average rate. The tech-related sectors in London and the south of England have been growing faster than in California.
Many tech companies are making contingency plans to send parts of their U.K. business offshore (or near-shore, as some call a move to Dublin). Teleport, an online platform that helps high-skilled workers move jobs, says that over 30 percent of its U.K.-based users who responded to a recent survey said they have plans to leave as a result of Brexit.

Given their small sample size, that's not a number that's going to make many waves, but officials would be wrong to ignore it. TechCity, which promotes London as a hub for technology, conducted its own poll and reported that 70 percent of tech employers said they want a clear message on whether EU residents will be able to stay in the U.K. An even higher number, 85 percent, said they want the U.K. to remain part of the European single market. Yborder, a recruitment company that promises "no borders for coders," says few U.K. businesses it surveyed have a relocation plan so far, but 64 percent expressed concern about visa requirements for future recruits.
The worried-but-undecided contingent highlights just how much is at stake for Theresa May and her negotiating team. If she's to keep these companies at home and nurture innovation in Britain, she'll have to guarantee they can recruit talent and retain access to Europe's market of 500 million consumers without encountering new regulatory hurdles.
Brynne Herbert, CEO and founder of Move Guides, which helps companies move people around the world, is on the front line of Brexit both as the head of a tech company and through her clients. If Brexit hasn't yet prompted an exodus, she says, it's already deterring new moves to the U.K.
"Companies that have not yet entered the U.K. are either deciding not to or are taking more time for that decision," she said. "I know of a solar company that wanted to move to the U.K. but decided to go to Dublin instead. I think there will be a rush out the door if the regulations go the way people are worried they will go."
Headquartered in London and San Francisco, she said her biggest headache is finding enough engineering talent to fuel the company's 200 percent annual growth.
"Sixty percent of our product and engineering team are non-U.K., European nationals," she said. "So as a CEO, it's a pretty scary reality." She's not alone: About one in three workers at U.K. tech start-ups come from outside the U.K.
Alain Falys, co-founder and CEO of the mobile payment platform Yoyo Wallet, says the U.K. financial technology industry may be in for a shake-up. A Frenchman and serial entrepreneur who has been in London less than three years, he says he worries less for the workers who are already there and more about how he will grow from his current base of 40 employees.
Employing non-EU citizens is currently a nightmare, he says; it costs between $3,000 and $5,000 per person, not including immigration lawyers, and there are many bureaucratic obstacles. If EU workers are treated that way after Brexit, he said, recruitment will become a growth-killer. The fintech sector will also suffer if Britain's regulatory system no longer guarantees access to EU markets, the so-called "passporting" rights.
The U.K. had worked hard to make tech shoots grow. Its business-friendly regulation of fintech is widely praised. There are tax credits for companies with fewer than 500 employees that invest in research & development, a reduced corporate tax rate on profits derived from patents and intellectual property, and tax relief for investors in start-ups.
This week the IMF downgraded the U.K.'s economic growth forecast to 1.3 percent from 2.2 percent for 2017, but assumes that  the U.K. will eventually regain single-market trading access to EU countries. If so, that may stem some of the outflow of talent. But it could also come after tech companies have already decided to move.
The pound has lost value since the June 23 Brexit vote, which may help delay decisions for a while; cheaper currency lowers the cost to foreign firms of locating employees in the U.K.  But as TechCrunch editor Mike Butcher pointed out in an e-mail conversation, capital flight is still an issue since about 40 percent of venture capital investments in Europe are backed by the European Investment Fund. With Britain out of the EU, those funds will probably dry up. In the meantime, there is yet more uncertainty about what happens to venture capital.
Theresa May's relationship-building trip to Berlin and Paris this week is meant to set an optimistic tone for the tough negotiations ahead to set the terms of the U.K.'s new relationship with the rest of Europe. She'll need to make sure that while everything changes, some things remain the same.
This column does not necessarily reflect the opinion of the editorial board or Bloomberg LP and its owners.