view
This Is What 'Travesty of Justice' Looks Like
Prisoners are losing the chance to reduce their sentences as an appeals court fumbles a recent Supreme Court ruling.
by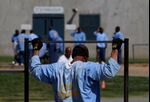 Call it Scalia's revenge. In one of the last cases that he authored before he died in February, Justice Antonin Scalia convinced his colleagues to strike down a key clause of the Armed Career Criminal Act because it was unconstitutionally vague. As a result, thousands of convicted felons are now asking courts to have their sentences reduced. 
The legal rules for considering such post-conviction requests are tricky and technical. But in most of the country, prisoners are getting another day in court to have their ACCA convictions reviewed in the light of the new legal principle.
In the Eleventh Circuit, which includes Alabama, Georgia and Florida, the process has gone badly awry. This week, a judge on the circuit's court of appeals cried foul, calling for a fundamental change in how its handling these cases.
To understand the problem in the Eleventh Circuit, you have to start with the federal law. The ACCA imposes harsh sentences for previously convicted felons who use a firearm to commit another crime. The way it works, basically, is that a felon with three or more prior convictions must get a mandatory minimum sentence of at least 15 years.
Scalia's ruling in Johnson v. United States, handed down in June 2015, had to do with what's known as the "residual clause" of the law. That clause defined the felonies that count for purposes of the ACCA as "violent" ones, which in turn were defined as those involving "conduct that presents a serious potential risk of physical injury to another." 
The court held that this definition was so vague that it violated the constitutional principle requiring that criminal laws be specific rather than arbitrary and indeterminate. That brought out the convicted felons currently serving sentences under the ACCA -- in droves.
In April 2016, the Supreme Court, minus Scalia, held that the Johnson decision should be applied retroactively. (Weirdly, not all constitutional decisions by the Supreme Court do apply retroactively. But the court held that this one did.)
For those prisoners who never previously filed post-conviction motions for habeas corpus, seeking review of their ACCA sentences post-Johnson is straightforward: a federal district court will consider their claims.
But in the real world, there are relatively few criminals sentenced to significant federal jail terms who haven't already asked for some form of post-conviction relief.
Before a prisoner can go back to the district court for what's called a "second, successive" post-conviction petition, he or she needs special permission from a federal court of appeals.
The stakes are high for the prisoners. In some cases, the difference might be between the 15-year minimum imposed on felons with three prior convictions, and a sentence of 10 years or less for fewer convictions.  
Consequently, the U.S. Court of Appeals for the Eleventh Circuit has been immersed in the time-consuming process of figuring out who should be allowed a second chance to file a petition in District Court seeking review of their sentence. It's studying presentence reports to ascertain whether any of the prior convictions should still count, and, if so, how that might change the petitioner's sentence.
Yet no other court of appeals appears to be engaging in this kind of case-by-case analysis. They've been approving the requests automatically and allowing a federal district court to sort out the details.
Judge Beverly Martin of the Eleventh Circuit issued an unusual and stirring opinion this week declaring that the process in her court wasn't working.
Martin asserted that among the thousands of applications and hundreds of denials, her court has been making mistakes -- mistakes that, by their legal nature, can't be appealed. "A court of appeals is simply not equipped to construct a new basis for a prisoner's old sentence in this way," she wrote.
To make matters worse, the Eleventh Circuit gives itself 30 days to rule on each request. The presentence report can be inadequate or misleading, and there are no attorneys involved to explain what it means. And most prior convictions are under state law, which varies from place to place and have technical details that are hard for the court to determine without a lawyer's help.
What's more, the Eleventh Circuit had rejected petitions for reconsideration before the Supreme Court said its Johnson ruling applied retroactively.
The upshot is that something very like a travesty of justice is happening in the Eleventh Circuit. And as you know if you're still reading this, the issue is sufficiently technical that it's hard to draw attention to the problem.
But real people are spending potentially many extra years in prison on the basis of an unconstitutional law. That's wrong. In the spirit of Justice Scalia, the Eleventh Circuit should change course and start allowing district courts to review post-Johnson ACCA petitions the way the other circuits do.
To contact the author of this story:
Noah Feldman at nfeldman7@bloomberg.net
To contact the editor responsible for this story:
Susan Warren at susanwarren@bloomberg.net
Before it's here, it's on the Bloomberg Terminal.
LEARN MORE