Europe
Britain Negotiates Its EU Exit With a Weak Hand
To maintain its pre-eminence, Britain's financial sector needs Europe.
by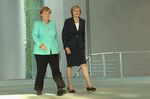 As the U.K.'s new prime minister, Theresa May, met with Chancellor Angela Merkel of Germany on Wednesday to open informal Brexit talks that European Union leaders insisted would not take place, the key question concerns the strength of the negotiating positions. Both May and Merkel are no-nonsense leaders, and their interaction won't be driven by emotion: It'll be about how much the EU and the U.K. need each other.
Those favoring the U.K.'s withdrawal often assumed that the EU would eventually allow Britain access to the common market without also requiring unfettered free movement of labor. The U.K., they have pointed out, is the world's fifth-biggest economy and the ninth-biggest export economy -- who would want to worsen the terms of trade with a partner this big?
It would only be that simple, however, if Britain agreed to an off-the-shelf option -- Norway-style membership in the European Economic Area, which imposes many EU rules and financial obligations but gives adherents an "emergency brake" on the EU's "four freedoms" -- the free movement of people, goods, services and capital. Such a deal would be relatively easy to negotiate because it wouldn't require much change from the status quo, but Brexiters might not accept it. EEA countries -- Norway, Iceland and Liechtenstein -- have been taking in more immigrants from EU nations than the U.K. relative to their population. 
If the ready-made solution is not acceptable, Europe and the U.K. will need to negotiate a trade deal from scratch. One could argue that the U.K.'s trade deficits with the EU's biggest economies -- Germany, France, Italy, Spain, Poland and the Netherlands -- would be a powerful argument in favor of giving Britain good access terms because these countries would supposedly derive greater benefit from continued free trade than the U.K. would. Yet this surplus is in goods alone; for some of the U.K.'s trading partners, losses in that areas could be easily offset by gains from excluding U.K. services exports. Britain has big services trade surpluses with most EU countries (France and Spain are exceptions because they are big tourist destinations for Britons).
The negotiations will have to go sector by sector, and there will have to be compromises and trade-offs -- some probably painful to the U.K., because, on aggregate, it probably has more to lose from barriers with Europe.
Last year, Open Europe, a research organization with branches in Brussels and London, attempted to calculate Brexit's impact on the U.K. export sectors. Here is a table that summarizes its conclusions:

In some sectors, such as automotive, Europe's biggest nations are vulnerable to the possible shrinkage of the U.K. market. Germany had a surplus of 28.3 billion euros ($31.1 billion) in automobile trade with the U.K., and the auto industry can't be ignored by Merkel given its  huge lobbying power in Berlin. There's no telling how a possible 10 percent tariff on these imports could reduce sales, and German car companies rely on integrated European part supply networks that would be disrupted by customs barriers. Germany and, to a lesser extent, France, which also has a car trade surplus with the U.K., would be interested in keeping the current terms.
That is probably May's strongest bargaining chip -- but it doesn't matter to most EU countries as much as it does to Germany and France, and a deal would need the consent of all remaining 27 union members. Tariff-free car imports to the U.K. market wouldn't be as valuable to Europe as the absence of barriers to insurance and financial services would be to the U.K.
Services make up about 40 percent of the U.K.'s total exports, and 37 percent of that goes to other EU countries. But the U.K.'s position could be eroded. London is a traditional financial center that attracts international banks. Once bankers consider other options -- and they are already doing so -- Germany, Luxembourg and Ireland could relegate the City to the role of an offshore center without full access to the European market. 
The potential damage to the U.K. financial sector takes away much of May's bargaining power, and both she and Merkel know that before talks even begin. The U.K. can hardly go into sectoral negotiations with the EU without having developed some kind of solution for the City. That increases the possibility of an off-the-shelf deal, no matter how much anti-immigration Brexiters hate it.
To contact the author of this story:
Leonid Bershidsky at lbershidsky@bloomberg.net
To contact the editor responsible for this story:
Max Berley at mberley@bloomberg.net
Before it's here, it's on the Bloomberg Terminal.
LEARN MORE