2016 Elections
Convention Ruckus Gives Republicans a Clear Choice
Party members deeply divided over Trump must realize they need each other if they want to win this election.
by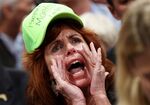 "I wouldn't call it hostile. It was spirited and intense." That was Republican strategist Dan Senor on Bloomberg television, describing the face off between Trump supporters and the anti-Trump insurgents who were trying to force a roll-call vote on the party's convention rules.
The insurgents lost, of course.  But that still left open, after the delegates vacated the floor, the question of what, exactly, the pro-Trump forces had won. In one of those little ironies with which life is peppered, I watched Senator Mike Lee of Utah giving an interview to CNN about why he supported the move for a vote, while on the stage, Oklahoma Governor Mary Fallin talked about how the convention was going to "bring us together as one party."  Meanwhile, a few feet from me, delegate Joel Mattila from Washington state was shouting at Mike Lee.
"Call them off, Senator! This is shameful!"
Lee gave him an incredulous look. "To ask for a roll-call vote?"
The Cleveland convention center today showed a party divided as no party has been since 1976, or perhaps, 1968.  Three months ago, Trump supporters were moaning about The Establishment and all their tricksy maneuvering against the Donald. Today, I heard anti-Trump delegates bitterly complaining that pro-Trump delegate alternates had contributed to the voice vote, that Trump whips were maneuvering to shut down the effort for roll-call voting, and that the authorities were otherwise steamrolling them. Members of the Colorado delegation walked out in protest.
This is not normal disappointment with an election that didn't go your way. It's not even a procedural battle about the rules, though a Louisiana delegate I walked next to certainly waxed lyrical about all the non-Trump reasons that the rules should be changed. Mostly, it's a battle over what kind of party the Republicans want to be. And in the convention center this evening, the two sides appeared no closer to agreement.
To be sure, I talked to a number of delegates who originally supported someone else, and were now supporting Trump as the only hope to beat Hillary Clinton. But not all of them looked happy about it.
When I asked one delegate from Washington, D.C. whether she had originally been a Trump supporter, she gave me a look that could have stunned an ox at fifty paces. Convention delegates are solid party stalwarts, the sort of people who can be depended on to rally behind anyone who can beat the opposing party come November. So the D.C. delegate's instant, visceral reaction is a problem for the Republican Party.
After the election results have been announced and the bumper stickers and lawn signs have been taken down, that visceral reaction will remain. It marks a deep divide in the party: between the folks who thrilled at the idea of a Trump candidacy, and the ones disgusted by it. Judging from the number of people who shouted for a roll-call vote today, that latter group is not small, even if it's not a majority of the primary delegates.
It's hard to see how those two groups reconcile any time soon. Right now, at least, they have one thin thread holding them together: the need to unify in order to defeat Hillary Clinton. If Trump loses in November, as still seems very likely, then that thread will snap. Trump supporters will blame the Establishment for a stab in the back; anti-Trump forces will blame his supporters for nominating a candidate so unelectable that he could lose to a lackluster candidate like Hillary Clinton. The rebellion that was put down today could easily turn into a civil war.
The fact is that -- as I suspect Trump supporters are about to find out -- the party's populist and establishment wings need each other. The populists supply energy, yes, but they are blind to the tedious-yet-necessary business of raising money, running campaigns, building legislative coalitions, and keeping your candidate from alienating too many voters.
The establishment wing obviously can't win an election without its populists, notwithstanding all the bitter remarks about purging the Trump element from the party. If they want to win elections, they'll probably need to ask themselves a question I once heard offered to a newlywed in some sort of marital crisis: "Do you want to be married, or do you want to be right?"
As of yet, the answer seems to be they want to be "right." Our nation's first Republican president once said, "A house divided against itself cannot stand." Neither can a party.
To contact the author of this story:
Megan McArdle at mmcardle3@bloomberg.net
To contact the editor responsible for this story:
Susan Warren at susanwarren@bloomberg.net
Before it's here, it's on the Bloomberg Terminal.
LEARN MORE