Editorial Board
The Republican Media Ticket
The Donald Trump/Mike Pence pairing represents the triumph of entertainment in politics.
by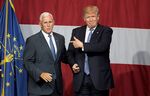 When John F. Kennedy Jr. created George magazine in 1995, the idea was to blur the distinctions between politics, media and celebrity. The magazine failed, but the merger succeeded beyond anyone's imagination -- and the 2016 Republican presidential ticket suggests that it's now complete.
On Friday, a real-estate-magnate-turned-reality-TV-star announced via tweet that he has selected as his running mate a talk-radio-host-turned-congressman-turned-governor. The revolution will be televised, broadcast on radio and livestreamed.
Donald Trump's pick for vice president, Indiana Governor Mike Pence, parlayed his radio career into a seat in Congress, where he established himself as a leading voice within the party's most ideologically conservative ranks. Since winning the governor's office in 2012, he has delighted national conservatives by cutting taxes, waging a crusade against the Common Core educational standards and signing a bill authorizing discrimination against gays and lesbians so long as it springs from religious beliefs.
As governor, Pence also came up with the somewhat despotic idea of creating a state-run news service, which was to provide stories to local newspapers and directly to the public. Voters rightly assailed the ham-handed attempt at propaganda (which, as everyone knows, is a dish best served covertly), and he agreed to drop it.
Pence's talk-radio background and willingness to cross what should have been an obvious line between government and the fourth estate makes him too neat a fit for the ticket. His new boss -- who is obsessed with positive media coverage -- has expressed an interest in curtailing libel laws, the better to sue media outlets for negative stories. A Trump-Pence administration may have little respect for the free press and its protections.
Pence is popular with the party's base, including evangelicals, and he is from a region that Trump needs to win. Politically, it's easy to understand why Trump chose him, including the fact that Trump had few viable (and no attractive) options. But Trump has campaigned on the promise of bringing Democrats and Republicans together in Washington, and there is little in Pence's background to suggest that he would be an effective partner in that effort.
Unlike many Republican governors, Pence did accept Obamacare's Medicaid expansion after the federal government agreed to his demands, which included requiring the poor to save money in personal health accounts and pay for some of the cost of their coverage. But on most issues, Pence is more of an ideological warrior than a dealmaker.
Historically, vice presidential nominees have little impact on campaigns, but they can prove highly influential once inside the White House. Given the Trump's inexperience, and his unwillingness to rule out the possibility of quitting should he win the election, voters might want to tune in to Pence before deciding whether to vote for Trump.
--Editors: Michael Newman, Francis Barry.
To contact the senior editor responsible for Bloomberg View's editorials: David Shipley at davidshipley@bloomberg.net .
Before it's here, it's on the Bloomberg Terminal.
LEARN MORE