view
The Bond Market Still Thinks Brexit Is Bad
Investors in government securities, unlike those buying stocks, take a dim view of the economic repercussions.
by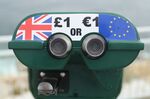 Were concerns about the repercussions of Britain's vote to leave the European Union overblown? Although the rebound in global stock markets might suggest so, bond markets aren't so sure.
People who invest in 10-year government bonds have to take a long view. The securities' value depends on what central banks will do with short-term interest rates over the next decade, which in turn depends on how the economic outlook develops. All that information is reflected in the bonds' yields, which -- assuming investors see little risk of default or runaway inflation -- rise and fall together with nations' perceived prospects for growth.
Those yields plunged after the June 23 referendum, offering a pretty clear narrative: Investors figured that the trade-related and other aftershocks of Brexit would take a bite out of both U.K. and global growth, forcing central banks to respond by lowering interest rates. By June 30, the yield on 10-year U.K. notes had declined by about 0.5 percentage point -- a huge move in the world of sovereign debt. Yields on other European government bonds were down between 0.14 and 0.30 percentage point. U.S. yields dropped, too, as investors fled to the safety of Treasuries. Here's how that looks:
What's remarkable, though, is how little has changed in the subsequent weeks, even as stock markets have rebounded and the situation in Britain has become clearer with the ascendance of Theresa May to the post of prime minister. U.S. yields have recovered somewhat, thanks in part to the positive signal sent by the June jobs report (released on July 8). But with the exception of Germany, bond investors' assessment of the outlook for European countries is looking just as bad or worse. Here's a chart comparing the initial change in yields to what happened between June 23 and July 14:
Why the persistent gloom? And why would Germany be better off, even though its exports to the U.K. account for a relatively large share of its output? To be sure, all kinds of information can affect bond prices -- but nothing as big as the Brexit vote has happened in the past couple of weeks. One likely explanation is that investors remain worried that France, Italy and Spain might follow Britain's example, further threatening a union that -- for all its warts -- has catalyzed growth throughout Europe.
So if you believe the bond market, it's probably too early to relax about the effects of Brexit.
To contact the author of this story:
Mark Whitehouse at mwhitehouse1@bloomberg.net
To contact the editor responsible for this story:
James Greiff at jgreiff@bloomberg.net
Before it's here, it's on the Bloomberg Terminal.
LEARN MORE