Editorial Board
Brexit Isn't Theresa May's Only Challenge
The new prime minister's top goal will be reunifying her own country.
by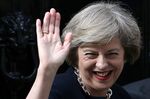 Britain's new prime minister, Theresa May, is all for union. Not the European Union -- "Brexit means Brexit," she has repeatedly assured voters -- but greater union within her own country.
In a speech Wednesday that barely mentioned Brexit, May set out two priorities. The first is preserving the "precious, precious bond" among the constituent parts of the United Kingdom: England, Scotland, Wales and Northern Ireland. To succeed, she'll need to make it attractive for each of these entities -- especially Scotland and Northern Ireland, which enjoy a fair amount of autonomy and view the EU more favorably -- to remain closely connected to London. These will be difficult and complicated negotiations, but they are manageable.
A successful long-term union, however, will depend on whether she can make progress on her other major goal: leading what she called a "one-nation government." The idea of "one-nation conservatism" -- which focuses on improving social cohesion and opportunity across society -- started with Prime Minister Benjamin Disraeli in the Victorian era, and has been invoked more than achieved ever since.
May promised to fight against "burning injustice," whether faced by working women who earn less than men, blacks who are mistreated by the criminal justice system, or the "white working-class boy" who struggles to get into university. These are worthy aims. They have also been declared, in one way or another, by each of the U.K.'s previous four prime ministers.
All the same, Brexit gives them new urgency. The vote puts in sharp relief the divide between the disadvantaged north, which largely favored Brexit and where the population is older, poorer and less educated, and the younger, more prosperous and more cosmopolitan area around London, which mostly voted to stay.
The priorities here are largely to be found in policies May's predecessor, David Cameron, set out but was unable to deliver. May can go further. While former Chancellor George Osborne's plan to revitalize the northern economy holds some promise, the new government must follow through with plans not only for infrastructure development, but also for enabling better and faster decisions at local levels of government.
May's approach to the British economy needn't be radically different than the Cameron-Osborne agenda. Britain needs fiscal discipline to keep inward investment flowing, but it also needs reforms that will require both government spending and more private investment. A true one-nation agenda would also focus on improving education standards and job training, lowering barriers to entry for new businesses, and improving access to housing.
May has appointed an experienced cabinet from both sides of the Brexit divide. How well her ministers can unite behind her one-nation agenda will be at least as important -- maybe more -- than the deal they strike with Brussels.
--Editors: Therese Raphael, Michael Newman.
To contact the senior editor responsible for Bloomberg View's editorials: David Shipley at davidshipley@bloomberg.net .
Before it's here, it's on the Bloomberg Terminal.
LEARN MORE