view
Big Businesses' Latest Power Play: Raising Wages
The mom-and-pop operations can't compete for workers as Wal-Mart, Starbucks and JPMorgan sweeten their compensation.
by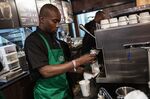 In the 1990s, Wal-Mart's "everyday low prices" crushed small businesses. Mom and pop stores just couldn't compete against the behemoth's economies of scale and investments in its supply chain. In an era of low inflation and stagnant wage growth, where success or failure was a function of who had the lowest prices, big business was the clear winner.
But now the game has changed.
This week, Starbucks and JPMorgan both announced meaningful wage increases for their employees. Starbucks announced at least 5 percent wage increases for all of its employees, and up to a 15 percent increase in total compensation for its longer-tenured employees. The company also announced worker-friendly tweaks to employee benefits, shift scheduling and employee dress code.
For his part, Jamie Dimon, CEO of JPMorgan, wrote an op-ed in the New York Times outlining its plan to lift wages for 18,000 of its lowest-paid workers over the next few years. In addition to serving as a recruiting pitch for JPMorgan, the piece highlighted how JPMorgan wants to help solve some of the broader societal concerns about inequality and wage stagnation.
The well-publicized moves by both firms serve two goals. The first is sort of ephemeral: to reduce political pressure driving voters to populist politicians who might put political pressure on corporations and the rich. The second is cold, hard economics: to attract good workers. 1
The fact is, the labor market for lower-level service employees is the tightest on record, going back to 2000. In June, the unemployment rate for leisure and hospitality employees, a reasonable proxy for workers like Starbucks baristas, hit 6.6 percent, down from 7.5 percent a year earlier. This compares favorably with the low of 7 percent in June 2001 or 7.2 percent in June 2007.
The corporate era of the 1980s and 1990s was defined by abundant service labor, cost savings and productivity gains -- the fruits of which mostly went to top management and investors. Our current era is increasingly defined by a scarcity of service labor, with the corporate sector making necessary changes to secure an adequate supply. For Starbucks, that means increasing the price of beverages and raising wages. For JPMorgan, perhaps it means a combination of cutting underperforming business lines and increasing wages for service staff.
But the thing about cold, hard economics is: There's always a tradeoff. If Starbucks and JPMorgan are getting the workers they need, and workers are getting higher pay, who ends up losing? The same group that lost out last time: small businesses. Many employers can't pay the higher wages now offered by firms like Starbucks and JPMorgan.
The NFIB Small Business Optimism survey released this week showed that more small businesses are reporting that they have jobs that are hard to fill, and that labor quality is becoming one of their biggest problems. If labor costs continue to rise, some of these small businesses might be driven out of business.
This isn't just an abstract issue. The impact of the shortage in service labor might fall on industries that society considers essential. The Wall Street Journal reported this week that child-care workers are among the most underpaid in the U.S., earning a median wage of $9.77 per hour. To a lot of workers, slinging coffee at $12 an hour might sound a lot more attractive than caring for infants at $10 an hour. That calculus would put upward pressure on child-care costs -- which already have risen at double the rate of overall inflation since 2009. The result? It's harder for families with working parents to get by.
Cold, hard economics.
Incidentally, Wal-Mart wasn't just the leader in competing on price in the 1990s; it has been a leader in competing on wages in this decade as well. It started this trend of wages for lower-level service workers in February last year.
To contact the editor responsible for this story:
Philip Gray at philipgray@bloomberg.net
Before it's here, it's on the Bloomberg Terminal.
LEARN MORE