view
Traders Leaving London Would at Least Escape the Rain
Paris, Berlin and Dublin are among those trying to persuade its financiers to relocate.
by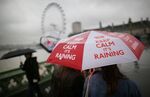 Have you heard? The platforms of London's St. Pancras train station and the departure lounges of its airports are packed with anxious investment bankers, ordered by their employers to relocate following Brexit. 
Of course, that isn't happening at all; the U.K. decision to leave the European Union hasn't prompted an overnight exodus. But the banks that warned they'd consider moving thousands of staff out of a non-EU Britain are surely assessing "the next two weeks, two months and two years," as consultancy firm KPMG put it when appointing one of its senior partners to be head of its new Brexit division. "The French government, the German government, a number of governments, are making, if I may call it this way, a case for people to move to their jurisdiction," UBS Chief Executive Officer Andrea Orcel said on Tuesday. So which competing financial center looks most attractive?
On cost-cutting grounds alone, there are a number of options. London regularly vies with Hong Kong as the most expensive world city for renting office space. It ranks second according to figures compiled by real-estate firm CBRE for the first quarter of this year, with Paris 14th, Dublin at 30th and Frankfurt down at 47th. For a bank seeking a cheap European office, Frankfurt and Luxembourg look the best bets:

For a human resources department seeking the best overall environment for its employees, Frankfurt also looks attractive. In its annual scorecard of cities based on overall quality of life, including considerations such as political stability, economic backdrop, personal freedom and school systems, the consulting firm Mercer ranks the German financial capital as the seventh best place to live. Its 2016 ranking of 230 cities puts Luxembourg 19th and Dublin 33rd:

Bankers ordered to relocate can anticipate lower housing costs wherever they end up. For city-center apartments, London is the second most expensive city in Europe after Monaco, with Paris third at almost half the cost, and Luxembourg 10th. Frankfurt and Dublin, though, are even cheaper:

At London dinner parties, the talk tends to oscillate between house prices and the dismal state of what the locals laughingly refer to as the Great British Summer. Paris and Luxembourg are far and away the warmest alternatives, with the French capital edging ahead in spring and winter while Luxembourg offers a slightly warmer summer:

Wimbledon's center-court has a retractable roof, but for traders seeking to live somewhere they can reliably plan a barbecue more than two hours in advance, Paris is the clear winner with about half the rainy days of London most months:

London's competitors for the title of leading European financial center are keen to lure business away from the U.K. capital. The head of the Paris regional government wrote to 4,000 British executives the day after the vote in favor of Brexit stressing the virtues of the French capital. "Keep calm and move to Berlin," was the message on a billboard parading London's streets on July 5. Ireland's foreign investment agency, IDA Ireland, has pitched the advantages of Dublin to financial firms in London. 
So what's my conclusion after running the numbers on the alternatives to London? For the linguistically challenged, English-speaking Edinburgh has its charms, though Dublin offers more certainty on the issue of EU membership. Luxembourg is the safest place to live in the world; Frankfurt fans are passionate about its quality of life and easy access to countryside. But if you want to replicate London's cultural breadth -- and enjoy a tan -- then Paris is for you.
To contact the author of this story:
Mark Gilbert at magilbert@bloomberg.net
To contact the editor responsible for this story:
Therese Raphael at traphael4@bloomberg.net
Before it's here, it's on the Bloomberg Terminal.
LEARN MORE