Editorial Board
Saving the World's Newest Nation
South Sudan's fifth birthday shouldn't be its last.
by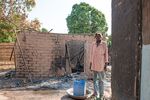 The world's youngest nation is already its fourth-largest source of refugees. It's a dubious distinction that South Sudan, spiraling deeper into ethnic civil war, is unlikely to shed anytime soon.
In the meantime, however, is there anything the so-called international community can do to set its newest member on a better path?
The most recent outbreak of violence wasn't exactly a surprise. President Salva Kiir and First Vice President Riek Machar -- and their respective factions -- were implicated in ethnic atrocities in the decades before South Sudan's independence and have been sparring ever since. The power-sharing arrangement forced on them last August did little to resolve underlying tensions.
One other complicating factor: The collapse in oil prices has deprived South Sudan -- which boasts sub-Saharan Africa's third largest reserves, after Nigeria and Angola -- of badly needed revenue. The economy shrank by more than 5 percent last year and inflation has hit nearly 300 percent; meanwhile, Kiir's government has been spending money it doesn't have on attack helicopters and patronage politics.
For all that, there is a role for rest of the world to play. To begin with, United Nations members can provide UN peacekeeping forces already there with the additional hardware, forces and leadership needed to protect the nearly 350,000 civilians who have sought shelter in various UN and other humanitarian encampments. The Security Council should also heed UN Secretary General Ban Ki-moon's call for an arms embargo. And with nearly 5 million South Sudanese facing starvation and more than 2 million displaced, donors must pledge and deliver more humanitarian assistance.
The other way to prevent more killing, of course, is to make those responsible pay the consequences. A UN report has blamed senior officials in both the government and opposition for war crimes and called for the wider use of targeted sanctions. Yet any expansion needs to be done with a focus on deterrence. The African Union, which has long complained about the International Criminal Court, should follow through on its proposal for an Africa-based court to hold those perpetrators to account.
Democracy and prosperity, let alone stability, are sadly still a long way off for South Sudan, which just last week marked its fifth birthday. Bringing them closer depends first on protecting the lives of those who are its best hope: the people without the guns.
--Editors: James Gibney, Michael Newman
To contact the senior editor responsible for Bloomberg View's editorials: David Shipley at davidshipley@bloomberg.net .
Before it's here, it's on the Bloomberg Terminal.
LEARN MORE