2016 Elections
Trade Deals Left for Dead May Rise Again
Both parties' platforms leave the door open to saving global treaties.
by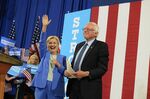 Bernie Sanders and Hillary Clinton presented a united front in New Hampshire on Tuesday. After weeks of negotiations over the Democratic convention's platform, Clinton won Sanders's endorsement by shifting left on health care, the minimum wage, financial oversight and marijuana legalization.
But she held her ground on trade. This is important news. It might signal that deals left for dead -- the Trans-Pacific Partnership that is completed but pending Congress's approval and the U.S.-European Union free-trade agreement, still being negotiated -- could be resurrected, if she wins.
Specifically, Clinton warded off her Democratic rival's attempts to get her to pledge opposition to a congressional vote on the Trans-Pacific deal after the election. Jeff Weaver, Sanders's campaign manager, told Bloomberg on Monday that the Sanders camp won't wage a floor fight over trade at the July 25-28 convention.
The party platform now calls for all trade deals to "protect workers and the environment" and not "undermine access to critically needed prescription drugs."
U.S. Trade Representative Michael Froman, who spent several years negotiating the Trans-Pacific Partnership, must be smiling. These are highly subjective criteria, and he can claim with a straight face that the agreement already does those things.
His agency's website, under a section called "Protecting Workers," says the agreement would require countries to protect the rights of workers to form unions and bargain collectively. Countries also must adopt minimum-wage laws, eliminate child labor and protect workers from discrimination and unsafe conditions. Another section, called "Preserving the Environment," has an even longer list of rules the 12 participating countries must follow to protect fisheries, endangered species, marine environments, rain forests and so on.
The Democratic platform-writers, in forcing the Sanders camp to capitulate, said they lacked the power to tie Congress's hands (though that never stopped them in the past). Besides, they didn't want to undercut President Barack Obama, who dearly wants a post-election vote on the trade deal.
Both reasons have fig-leaf attributes. The platform is supposed to elevate the views of the nominee, not the outgoing president. Perhaps Clinton, who caused a ruckus when she opposed the Trans-Pacific Partnership in October after championing it as secretary of state, is having another change of heart. Or perhaps her flip-flop -- she said the deal didn't do enough for workers or protect against currency manipulation -- was more cosmetic than real. Perhaps she has left herself enough wiggle room to support an amended treaty after the election, when it only needs a simple majority to pass.
All of the above could be true. Remember, even though Clinton repeated on Tuesday that she would oppose "bad trade deals," including the Trans-Pacific Partnership, she has never said she would oppose an amended agreement.
What if her presumed Republican opponent, Donald Trump, is elected president instead? The Trans-Pacific Partnership would seem to be dead in the water since he has said he would scrap it and start over. But it turns out that the Republican Party's draft platform remains open to free trade, too. The draft, written over the weekend but not yet final, doesn't call for re-negotiation of the North American Free Trade Agreement or repudiation of the Trans-Pacific deal.
It even expresses approval for a worldwide multilateral agreement that promotes open markets. This was exactly what the World Trade Organization, the citadel of liberal trade, was trying to accomplish with its Doha round of global trade talks. Those negotiations broke down in 2008 when China and India balked at opening their markets to U.S. agricultural goods. At that point, numerous countries broke off to arrange two-way deals, and the U.S. under Obama focused on a pact with South Korea and then the Trans-Pacific Partnership. But global trade rules are more preferable.
The GOP platform, in addition, says that trade is beneficial overall for the U.S. economy and that the party "looks to broaden our trade agreements with countries that share our values and commitments to fairness, along with transparency in our commercial and business practices." Who could disagree with that?
It also states that "Republicans understand you can succeed in a negotiation only if you are willing to walk away from it." And then there's this: "A Republican president will insist on parity in trade and will stand willing to implement countervailing duties if other countries don't cooperate." Sounds feisty, but there probably isn't a trade negotiator alive who disagrees.
There are Trumpian notes, to be sure. The document decries huge trade deficits and demands better negotiated trade agreements "that put America first." But the language is so general that a president could interpret it as loosely or tightly as he wishes.
So after all the bombast over the issue in the primaries, both parties seem to be going into their conventions more open to open trade than anyone -- including Democratic and Republican voters -- might have expected.
To contact the author of this story:
Paula Dwyer at pdwyer11@bloomberg.net
To contact the editor responsible for this story:
Katy Roberts at kroberts29@bloomberg.net
Before it's here, it's on the Bloomberg Terminal.
LEARN MORE