Exposed
The Extreme-Weather Defense Nobody Wants
Concrete homes are as close as it gets to stormproof. So why don't Americans buy them?
by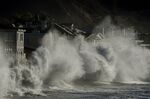 After Hurricane Sandy ruined the home in Breezy Point, Queens, that Diane Hellriegel's father built 60 years ago, she decided to rebuild with concrete. "If another Sandy comes," she told me, "it'll be the only house standing."
That might not be much of an exaggeration. Despite endless warnings that climate change will mean more frequent and severe hurricanes, floods and other extreme weather, 94 percent of new single-family homes sold last year in the U.S. were made with wood frames. Even in the South, where the risk from hurricanes is the greatest, just 1 in 10 new homes are built from concrete.
Leslie Chapman-Henderson, president of the Federal Alliance for Safe Homes, called concrete homes "the ideal" for withstanding extreme weather. So why are they still so rare?
The price incentives are all wrong. Building out of concrete increases the cost of a home by 15 to 20 percent, according to James Baty, executive director of the Concrete Foundations Association. He said the recession sapped demand for anything but the cheapest forms of construction, and that demand hasn't come back.
Part of the problem is that the people who pay the long-term costs of a home generally aren't the ones who decide what it gets built from. "A developer builds a house and then sells it," said Peter Keyes, an architecture professor at the University of Oregon. "They don't care about the costs after that."
Homebuilders are a conservative bunch. The way American homes are built is largely unchanged from the 1830s, when a carpenter in Chicago started using narrow cuts of wood to frame houses. That approach, called a balloon-framed or stick-built home, proved easy, cheap and fast.
"There's just a lot of inertia in the building industry," said Matthew Lasner, a professor of urban planning at Hunter College in New York. That's partly because the industry is subject to intense booms and busts, Lasner said, which leaves builders risk-averse.
But it's also about size. "When you have so many different small-scale actors," Lasner told me, "it becomes a lot harder to get them to change."
People love to tinker. Homeowners spend about $300 billion a year on renovations and home improvements. "Americans are always kind of remodeling and adding on," said Keyes. "A concrete house, it's really, really hard to do that."
Concrete isn't cozy. In 1908, Thomas Edison filed a patent for poured-concrete houses made from a single mold. Though a few such homes were built -- some still exist in New Jersey -- they never gained much popularity, in part because people found them ugly.
"People have never caught on to concrete as a warm and fuzzy material," said Richard Longstreth, an architectural historian at George Washington University. The typical reaction is "'Oh, you live in a bunker,' or something like that."
Oh, and it would make the problem worse. "The emissions in concrete production are huge," noted Alan Organschi, who teaches at the Yale School of Architecture. "Concrete is a very robust material, but it also is one of the very things that is producing climate change." He said a better solution is building homes out of heavy timber, which can be just as resilient as concrete and no more expensive.
Whatever form more resilient homes take, the people I spoke with agreed that change will ultimately need to come from individual designers and homebuilders. That may already have started. Illya Azaroff, the architect whose firm designed Hellriegel's new house, told me that he no longer wants to use anything but concrete for flood zones.
"You're going to see the storm come again," he said.
To contact the editor responsible for this story:
Brooke Sample at bsample1@bloomberg.net
Before it's here, it's on the Bloomberg Terminal.
LEARN MORE