Share the View
More Technocrats, Please
A daily digest of opinions and analysis from Bloomberg View.
by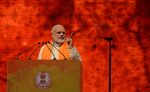 India Should Be Embracing, Not Shunning, 'Experts' 
Prime Minister Narendra Modi has said he wants "hard work, not Harvard" from top officials, but last week's cabinet reshuffle suggests he values political loyalty over expertise. Mihir Sharma warns that bureaucrats won't generate the ideas a fast-growing economy needs.
Russia Has the Most Boring Election of 2016
If you need a reprieve from this year's political drama in the U.K. and the U.S., turn to Russia. Leonid Bershidsky says the new parliament that will be seated in September will bring no new faces -- exactly as Russians wish.  
A Backdoor Legal Attack on Citizens United
Campaign-finance reformers have a new legal strategy: Instead of directly challenging the 2010 Supreme Court case, they're taking aim at a lower-court decision that opened the door to super-PACs. Noah Feldman says the approach might work -- but that timing will be everything.
Oldest and Youngest May Determine America's Political Future
Hillary Clinton has an enthusiasm deficit with the youngest voters, while Donald Trump risks alienating conservative seniors. To know what to expect in November, Albert R. Hunt says, keep an eye on the generational wings.
America's Highly Productive Gun Industry
The manufacturing sector may be struggling across the U.S., but American gunmakers are churning out product like never before. Justin Fox finds production has tripled since 2001, even as employment has held steady.
Ritholtz's Reads
How housing's new players spiraled into banks' old mistakes (Dealbook)
The brave new uncertainty of Mervyn King (New York Review of Books)
Economists forgot Smith and Darwin's message: Society can't function without moral bonds (Evonomics)
(Read Barry Ritholtz's full daily news roundup.)
Get Share the View every morning in your inbox. Click here to subscribe.
To contact the author of this story:

Before it's here, it's on the Bloomberg Terminal.
LEARN MORE