view
Wanted in Delhi: Experts
Bureaucrats can't be the source of ideas a fast-growing economy needs.
by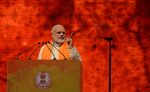 Last week's cabinet reshuffle in India was a virtual jobs program for government officials. Prime Minister Narendra Modi expanded the body to 78 members -- just a few short of the legally mandated maximum -- largely for electoral reasons. Several new inductees are from the large states of Uttar Pradesh and Gujarat, which go to the polls in a few months. Many others are members of lower caste and minority communities whose votes Modi's Bharatiya Janata Party is seeking.
In some cases, performance has been rewarded: Dynamic energy czar Piyush Goyal has added the ministry of mines to his portfolio. But other changes revive questions about just how much the Indian government values expertise in its top officials.
Investors were particularly dismayed by the shunting out of the finance ministry of its junior minister, Jayant Sinha -- a Harvard MBA, former consultant and venture capitalist who spoke their language and was seen to represent their interests. Moved over to the civil aviation ministry, Sinha becomes the second high-profile technocrat distanced from the controls of India's economy in recent weeks, after respected central banker Raghuram Rajan announced he would be returning to academia this fall.
It's true that India's government has always had a problem with embracing outside experts. Few prime ministers have appointed to positions of real influence those with successful careers outside politics or the bureaucracy.
But the problem seems to be growing. Forget about ministerial posts; Modi has disbanded even such pools of external expertise as the Prime Minister's Council of Economic Advisors and the National Security Advisory Board. One government think tank remains, the National Institution for Transforming India or NITI, nominally led by the Columbia economist Arvind Panagariya. But even here, leadership has actually been handed over to a career bureaucrat.
Given the scale of the changes needed to transform India into a middle-income country it's simply not realistic to rely exclusively on government insiders. Yet although Modi himself recognizes the size of the task, he's dismissed the possibility that "experts" can tell him what needs to be done. Instead, he's turned increasingly to career bureaucrats for advice, even to formulate out-of-the-box reform proposals.
The cost of this bias should be obvious. In a country where excessive regulation is a key hindrance to growth, the bureaucrats who gain the most from red tape are unlikely to remove it. Just recently, a policy meant to reform civil aviation in India wound up featuring a complicated government-administered subsidy regime. Bureaucrat-framed rules that were supposed to allow companies like Apple Inc. open stores in India in fact leave too much discretion to officials to work properly.
More importantly, as one of India's most respected economic journalists put it, bureaucrats are trained to follow rules and precedents; they're a poor source of new ideas. And India's bureaucracy -- where one's rank and posts depend crucially on an examination candidates take in their 20s -- is almost uniquely unsuited to dealing with the problems thrown up by an economy doubling every few years.
The sectors that lead Indian growth such as telecommunications, healthcare and finance are most in need of regulatory expertise from outside the government. In telecom, for instance, the government has struggled to deal with poor service quality, born of its inability to frame supportive rules for allocating radio spectrum. Such sectors badly need the sort of focus and creative thinking that a small team of professionals in the last government led by software billionaire Nandan Nilekani brought to the digital enrollment of welfare recipients.
Indeed, India's history shows that when governments have turned to technocrats for help, the economy has generally done well. In the 1950s, a cadre of scientists and economists recruited by independent India's first Prime Minister Jawaharlal Nehru helped raise India's growth from 1 percent to over 4 percent. After a long period of statist stagnation, India began to grow again in the 1980s when then-Prime Minister Rajiv Gandhi tapped the expertise of technocrats such as U.S.-trained engineer Sam Pitroda. And India's high-growth phase from the 1990s onward was kicked off by the most prominent technocrat of them all, the economist Manmohan Singh, who rose to become Modi's predecessor as prime minister.
In stump speeches in 2014, Modi famously said the Indian economy needed "hard work, not Harvard." His ability to squeeze greater effort out of his cadre of generalists isn't in question. Pushing them to be more reformist and creative is another matter. For that, what India needs is a lot more Harvard-trained technocrats like Jayant Sinha.
To contact the author of this story:
Mihir Sharma at m.s.sharma@gmail.com
To contact the editor responsible for this story:
Nisid Hajari at nhajari@bloomberg.net
Before it's here, it's on the Bloomberg Terminal.
LEARN MORE