view
Stopping the Violence
A daily digest of opinion and analysis from Bloomberg View.
by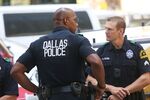 Not Again. Not Again. Not Again.
The slaying of two black men by police officers this week -- followed by a horrific mass shooting at a rally against police brutality -- has left Americans reeling. Leonid Bershidsky considers what might slow an ever-accelerating cycle of violence, while Stephen Carter meditates on why police shootings are uniquely horrifying to black Americans. (Hint: It's not just because they're disproportionately likely to be victims.)
Some Want a Race War, But Dallas Won't Deliver
If you need a glimmer of hope (we all do) read Frank Wilkinson on the city's response to Friday's tragedy -- a testament not to America's bloody, racist past, but to its far better future. (Also, there's this.)
A More Reassuring Jobs Report in June
Finally, a little good news: U.S. employers added 287,000 jobs last month, a development Mohamed El-Erian calls "encouraging" after a steep two-month decline. Mark Whitehouse argues there's enough slack in the job market for employers to keep hiring, while Betsey Stevenson examines the lingering problem of people (especially men) who have dropped out of the workforce.
Green Cards for Tech Grads? Yes, But Be Careful
If Hillary Clinton had her way, non-Americans who earn advanced STEM degrees from U.S. universities would automatically become permanent residents. Paula Dwyer says the idea is promising -- but could put native-born workers at risk.
Clinton's New College Plan Flunks the Economics Test
Speaking of higher education, Megan McArdle says the candidate's "Sanders lite" proposal to make college more affordable would break the budget. Why not figure out how to pay for existing programs first?
Ritholtz's Reads
New cars are too expensive for the typical family, study finds (NYT)
Why the biggest benefit of index investing isn't lower costs (WSJ/The Experts)
Shares of job growth aren't the best metric of labor market health for less-educated workers. (Ernie Tedeschi/Medium)
(Read Barry Ritholtz's full daily news roundup.)
Bloomberg Gadfly 
(Read more from BV's sister site for fast business commentary.)
Get Share the View every morning in your inbox. Click here to subscribe.
To contact the author of this story:

Before it's here, it's on the Bloomberg Terminal.
LEARN MORE