view
A More Reassuring Jobs Report for June
The strong numbers will rattle those who were certain the Fed won't raise rates.
by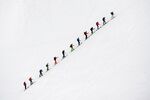 By beating headline market expectations in a big way, the employment report for June released Friday provides a reassuring assessment of the U.S. labor market and, more generally, the well-being of consumers. It also was encouraging that the labor participation rate ticked up after a steep two-month decline that took it close to multidecade lows. Unfortunately, wage growth remained below what is needed to underpin a more buoyant economic outlook.
QuickTake Monthly U.S. Jobs Report
After a surprisingly weak 38,000 jobs added in for May, the U.S. economy created a robust 287,000 in June. This figure provides a solid signal that the poor performance  for May was likely to have been an outlier. The small uptick in the labor participation rate to 62.7 percent in June -- especially after the sharp 0.4 percentage point drop in the previous two months -- also was encouraging. But a third key indicator, wage growth, remained sluggish, with only an 0.1 percent monthly increase (or 2.6 percent year-on-year).
To create the conditions for brighter prospects for growth, prosperity and income distribution, the economy will need continued solid job creation (say, average monthly growth of 125,000 to 150,000) and a gradually higher participation rate (an increase of 0.1 to 0.2 percentage points per month on average), accompanied by stronger wage growth that approaches 3 percent year-on-year. Nonetheless, viewed as a whole, the June jobs report is a lot stronger than financial markets had expected. That means this latest data are likely to somewhat rattle fixed-income traders who had been excessively confident that Fed policy changes would be delayed for the foreseeable future.
Look specifically for short-term yields to rise, at least in the short term. The report will be welcomed by equity investors as a "goldilocks" reading: Strong enough to underpin more comforting growth expectations, but not too hot to result in an immediate interest rate hike by the Fed. It will be especially welcome to wounded segments of the financial markets, and in particular, banking, which had started to raise concerns about systemic risks for Europe and, potentially, the global economy. But the relief will prove transitory if June's labor-market strength is not reinforced in the months ahead.
As I have argued in recent years, and as detailed in "The Only Game In Town," sustainable growth will only take root if the prolonged and excessive reliance on central banks is replaced by a more comprehensive and sustainable policy response that addresses lagging structural reforms, deficient aggregate demand, persistent excessive indebtedness and weak regional economic architecture along  with insufficient global policy coordination.
For that to happen, the world needs a political environment that is far more coherent and responsive. More than ever, political will and vision will matter more than economic engineering.
To contact the author of this story:
Mohamed A. El-Erian at melerian@bloomberg.net
To contact the editor responsible for this story:
Max Berley at mberley@bloomberg.net
Before it's here, it's on the Bloomberg Terminal.
LEARN MORE