view
The Real Libor Scandal May Be Who Isn't in Court
The junior troops seem to be getting court-martialed while the generals escape their day in court.
by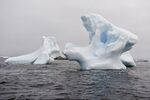 A London court has just convicted three former Barclays traders of rigging Libor, with sentencing expected later this week. Jonathan Mathew, 35, Jay Merchant, 45, and Alex Pabon, 38, were found guilty of conspiracy with other Barclays employees between June 1, 2005 and August 31, 2007. The real scandal, though, may be the long list of senior bankers and officials who haven't been hauled before a judge to account for their roles -- starting at the very top of U.K. financial markets.
It's now clear that the manipulation of London interbank offered rates for more than a decade -- borrowing costs which in turn set the values for $350 trillion of global securities -- came in two very different flavors. There were many traders falsifying rates for personal gain. But there were also banks pretending in 2007 and 2008 that all was well with the world, concealing the true cost and availability of money from investors and the wider public. The question that needs answering is how high up in the financial hierarchy was the latter behavior sanctioned?
On Oct. 29, 2008, Paul Tucker, then the deputy governor at the Bank of England, called Bob Diamond, who was then head of the investment bank at Barclays. The following day, Diamond e-mailed his then Chief Executive Officer John Varley to relay what was said on the call:
Tucker stated that the levels of calls he was receiving from Whitehall were 'senior' and that while he was certain we did not need advice, that it did not always need to be the case that we appeared as high as we have recently.
Barclays released that note in July 2012, which prompted Tucker to request a Parliamentary hearing to "clarify the position with regard to the events involving the Bank of England, including the telephone conversation with Bob Diamond on Oct. 29, 2008." At the subsequent hearing held on July 9, Tucker denied getting calls from any Whitehall officials to admonish Barclays for its Libor rates, He told the Treasury committee that Diamond's note "gave the wrong impression" of their conversation, which he said was more about whether management was paying attention to what its money market traders were doing, "ensuring that they don't march you over the cliff inadvertently by giving signals that you need to pay up for funds."
We know the phone call happened. We also know from that same parliamentary inquiry that Jerry Del Missier, who was chief operating officer at the time, interpreted the central bank's perceived interference as an order to submit lower Libor rates. (A year earlier, Del Missier had e-mailed Diamond describing "the whole Libor curve" as "fantasy rates.") Frankly, if a central banker had told me to be careful that my traders weren't "giving signals that you need to pay up for funds," even that might have been enough to persuade me to lowball my Libor submissions. But since we don't know for sure what was actually said, and neither of the participants have had to testify under oath, we're left with an all-male equivalent of "he said, she said."
Here's what particularly troubles me about this episode. Reams of emails, chatroom messages and phone call transcripts have been amassed in the various probes into market rigging. The world of finance is nothing if not efficient at storing and retrieving data, providing hundreds of thousands of words for regulators and lawyers to use as evidence.
And yet when the deputy governor of the Bank of England called the chief executive of one of the U.K.'s biggest banks in the middle of a financial crisis, there's no recording of that conversation? No transcript? Diamond told the July 2012 hearing that "the call came to me in my office in New York and I'm sure during the investigation people would have looked for the recording and I haven't heard of a recording." Which leaves me wondering just how hard those "people" looked for that recording.
Tucker told the hearing he didn't have a record either: "I greatly wish there were a note of it." I, too, greatly wish there were a note of it -- as I'm sure the defendants in the Libor trials and their legal counsel do.
Tucker is now a senior fellow at the Harvard John F. Kennedy School of Government. Neither he, nor Diamond, nor Del Missier have had to testify in court about their roles in the Libor scandal -- not even as witnesses, nevermind defendants. Nor has Mark Dearlove, who was the bank's head of money markets and who submitted a court filing in January 2014 in which he "accepts that he was involved in and aware of manipulation of Libor," according to Judge Julian Flaux.
Here's something else that troubles me about the Libor prosecutions. Peter Johnson, the former trader who was responsible for submitting the rates Barclays gave to the British Banking Association, pleaded guilty to manipulation in October 2014, but hasn't been sentenced yet. Part of the evidence in the trial just ended was a transcript of a conference call on Sept. 4, 2007, during which Johnson made the following comments:
I've been sort of been trying to get Libors up to where they should be. I still don't think they are necessarily high enough, but we've been coming under a bit of political pressure not to go too, go too high, as you can sort of obviously understand.
Johnson, it strikes me, was trying to do the right thing. He knew the market was broken, and that the true cost of borrowing money was climbing. So he was trying to submit higher rates -- except his superior, Dearlove, was ordered by Del Missier to reduce those submissions. That's according to Del Missier's own July 2012 parliamentary testimony, in which he said he was told by Diamond to lower the rates, and "passed the instruction along" to Dearlove. "It did not seem an inappropriate action given it was coming from the Bank of England," Del Missier told the committee.
Tucker received a knighthood in December 2013 for his "substantial contribution to the stability of the U.K. economy and financial system." Dearlove's father is Richard Dearlove, currently the master of Pembroke College in Cambridge and formerly the head of the British Secret Intelligence Service. A conspiracy theorist might suggest the establishment is closing ranks to prevent an elite from facing questions under oath.
Even if that isn't the case, I can't escape the feeling that there still hasn't been anything like a proper reckoning of the Libor crisis -- leaving the distasteful suspicion that the junior troops are being court-martialed while the generals escape their day in court.
To contact the author of this story:
Mark Gilbert at magilbert@bloomberg.net
To contact the editor responsible for this story:
Therese Raphael at traphael4@bloomberg.net
Before it's here, it's on the Bloomberg Terminal.
LEARN MORE