Latin America
Nicaragua Prospers Under an Ex-Guerrilla
President Ortega, headed to a fourth term, has achieved a political balance rare in populist-driven Latin America.
by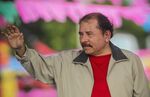 These are bleak times for Latin American populists. Bolivian President Evo Morales recently lost his bid to change the constitution to hold on to power indefinitely. Rafael Correa of Ecuador has grown increasingly belligerent as his approval ratings tumbled along with the country's fortunes, and Venezuela's little-loved President Nicolas Maduro seems bent on driving South America's onetime fourth largest economy into the depths of the Orinoco.
They should take a cue from Daniel Ortega. The one-time Nicaraguan guerrilla leader, who helped topple a dictator and then parlayed his revolutionary cachet into three terms as president, is riding high. Having dispatched term limits in 2014, and outmaneuvered critics since, Ortega, 70, is cruising to a fourth term. True, he still must win the Nov. 6 election, but it's a measure of his prestige and political savvy -- and the iron grip he keeps on this country of 6.1 million people -- that almost no one doubts he will prevail.
Ortega's success doesn't so much challenge the heralded decline of Latin America's pink tide of big-spending leftism as confirm it by exception. A wily politician, he has deftly toggled back and forth from florid anti-American rhetoric to market-friendly pragmatism, taking care to sprinkle cash for the poor and keep corporate taxes low. Such form-fitting politics is a rare combination in a region where elected autocrats tend to excess and economic dirigisme, smothering both dissent and enterprise.
The result: the Nicaraguan economy grew 4.9 percent last year and has averaged 5.2 percent for the last five. Although three in 10 Nicaraguans are poor, unemployment and inflation are low. Public sector debt is a modest 2.2 percent of gross domestic product -- which seems downright parsimonious in a region rich in profligates. 
Street crime is trifling compared to the epidemic violence of neighbors Honduras, El Salvador and Guatemala, which is one reason why few Nicaraguans have joined the flood of Central America's international refugees. Ortega's aggressive anti-drug initiatives have muted criticism from Washington while his opportunistic diplomacy has brought Nicaragua both U.S.  investment and cash from "Bolivarian" Venezuela.
For the former guerrilla insurgent who favored Cuban stogies and Russian AK-47s during the Central American cold war, Ortega's transition to institutional politics seems improbable.
And yet for all his anti-gringo posturing, "Ortega has pursued fairly centrist policies," says Geoff Thale, of the Washington Office on Latin America, a think tank. "If Washington is unhappy about violations of freedom of speech and anti-U.S. rhetoric, they're happy with his openness to investment and trade."
Ortega's critics know a darker side. Consider the ever-accommodating Nicaraguan Supreme Court, which last week deposed opposition leader Eduardo Montealegre as head of the Independent Liberal Party -- essentially clearing the way for Ortega to run unchallenged in the November elections. Given Ortega's comfortable lead in the race, the move suggested gathering tensions that belie the Ortega government's official spin.
Recently, security officials abruptly expelled a group of foreign environmentalists, a Harvard research scholar and three U.S. officials. Authorities gave no reason for ousting the visitors, all of whom arrived legally and with proper travel documents. But I'd wager a fistful of Nicaraguan cordobas that "Presidente-Comandante Daniel" has something he's uneager to share.
Start with his plans to carve a massive shipping lane across Nicaragua scaled to rival the Panama Canal, a shadowy project that Ortega farmed out to Chinese investors led by billionaire Wang Jing. Ground has yet to be broken on the $50 billion development, but Nicaraguans have raised a stink over the lavishly generous terms of the deal (which guarantees Wang near unlimited rights to Nicaraguan land) and the wall of confidentiality that authorities have raised around it.
Probing that mystery was what prompted Evan Ellis, a professor at the U.S. Army War College Strategic Studies Institute, to fly to Nicaragua's capital city Managua last month. But Nicaraguan officialdom demurred; shortly after arriving, government agents showed up unannounced at his hotel and sent him home the following day.
A week later, Harvard political scientist Viridiana Rios, a fellow at the Woodrow Wilson Center, was forced to cut short her research into inequality and economic growth when she got a tip that Nicaraguan police were tailing her.
And yet little of this goonish behavior is likely to injure Ortega's political ambitions. In a recent poll, 65 percent of those surveyed said they planned to vote for him in November, while the entire opposition garnered just 13 percent.
That's a remarkable record for one of the most enduring Latin American strongmen, who has taken his country from a tinhorn dictatorship to a tinhorn democracy in just 35 years.
To contact the author of this story:
Mac Margolis at mmargolis14@bloomberg.net
To contact the editor responsible for this story:
Susan Warren at susanwarren@bloomberg.net
Before it's here, it's on the Bloomberg Terminal.
LEARN MORE