view
Celebrate America (With International Investment)
A daily digest of opinions and analysis from Bloomberg View.
by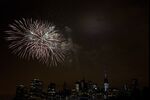 Happy Fourth of FDI!
As patriots celebrate U.S. Independence Day with Brazilian beer, Chinese hot dogs and British ice cream, Afshin Molavi explains why foreign direct investment is as American as apple pie.
Don't Mess With India's Central Bank
As concerns mount about the Reserve Bank of India's independence, politicians in New Delhi have called for recapitalizing state-owned banks with emergency funds from the central bank — much to Mihir Sharma's dismay.
There's More Blue in Beijing Skies These Days
Justin Fox enjoys a breath of fresh air in the Chinese capital, where the large-scale shuttering of coal plants has cut pollution significantly.
The Supreme Court Really Matters in This Election
Donald Trump says his opponent would stack the high court with "radical judges," while Hillary Clinton warns that Republican-appointed justices would "demolish pillars of the progressive movement." That rhetoric isn't new, but Albert R. Hunt says the candidates' dire warnings could actually affect voter behavior this year.
An Environmental Victory (and Cautionary Tale)
Humanity is winning the war on the ozone hole, but Faye Flam warns that's no reason to become complacent about global warming.
Ritholtz's Reads 
Foreclosure sleuth: How a sports agent uncovered the greatest financial fraud in American history (The New Republic)
'It's the age of the self': how Kim Kardashian gamified her life and made $100 million doing it (The Verge)
The Daily Trump: A time capsule of the unpresidential things Trump says (The Atlantic)
(Read Barry Ritholtz's full daily news roundup.)
Get Share the View every morning in your inbox. Click here to subscribe.
To contact the author of this story:

Before it's here, it's on the Bloomberg Terminal.
LEARN MORE