Cars
Dieselgate Just a Bend in the Road for VW
The real casualty of the multi-billion-dollar scandal? A not-so-clean technology.
by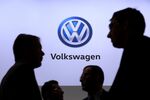 Volkswagen's $15 billion deal with customers and regulators may be the largest settlement ever for an automaker in the U.S., but it's only the first step in what will be a lengthy, painful effort to put the company's diesel emissions cheating scandal behind it.
Having set aside more than $17 billion to cover the costs of the ordeal, it might appear that VW has closed an ugly chapter in its history at a small discount. It's unlikely that executives are celebrating. The final reckoning for VW is likely to cost the company billions more.
By compensating U.S. consumers in fairly generous terms, VW has begun to move past the scandal in the market where its chicanery was first discovered and the initial media firestorm burned brightest. But civil and criminal actions -- including a potential $45 billion civil claim filed on behalf of the Environmental Protection Agency -- still loom, as the Department of Justice says the settlement only "partially" resolves concerns over the automaker's Clean Air Act violations and doesn't cover Volkswagen's larger diesel engines. Tens of billions in further penalties could still be in the cards.
Meanwhile, in Europe, where diesel-powered vehicles make up a far greater proportion of VW's business, a customer compensation program has yet to be announced, and popular anger at the automaker remains at a steady simmer. European Commissioner for Industry Elzbieta Bienkowska is calling on VW to extend the terms of its U.S. settlement to European consumers, and with some 8.5 million diesel engines affected there -- compared with the 475,500 covered by the U.S. agreement -- a comparable $5,100-per-customer deal could add at least another $43 billion in costs.
These efforts may be hampered by the EU's more ambiguous legal position on emissions control "defeat devices," not to mention that the European Commission apparently ignored warnings from its own experts as far back as five years ago. But if VW decides it must match the U.S. deal in order to win back the trust of European consumers and regulators, the costs could be devastating.
And it's not just consumers looking for compensation: A flood of shareholder and bondholder lawsuits alleging insufficient disclosure of the scandal by VW's board and top management have been filed by investors from around the world, and more could be on the way. Volkswagen's response to one shareholder suit, posted to its website four months ago, argues that the company did not expect costs related to the scandal to reach this point and studiously avoids confirming how much its top managers knew about the scandal.
But it won't simply be up to plaintiffs to disprove VW's version of events: German prosecutors are investigating former CEO Martin Winterkorn and current brand boss Herbert Diess for possible "market manipulation" in the form of insufficient disclosure. If those criminal investigations result in convictions, investor lawsuits would gain massive tailwinds.
Even if Volkswagen successfully navigates this legion of legal challenges, another punitive damage awaits that could have devastating and long-term impacts: the twilight of diesel technology. Under pressure from environmental groups concerned by stubbornly high concentrations of nitrogen oxide pollution in European cities and frustrated by the German transport ministry's perceived heel-dragging, Germany's environment minister is launching its own investigation into real-world diesel emissions. The country's cities are moving to ban diesels under their clean-air plans, and long-standing tax benefits for diesel fuel across Europe are under attack. 
The turmoil in Europe has already affected sales of diesel-powered vehicles, but the true impact remains unknown. Making diesel engines whose exhaust-treatment systems function in all conditions rather than just in official tests will involve massive cost increases that will steadily drive the technology out of the market. European automakers are in near-unanimous agreement that these cost increases will push small-displacement diesel engines out of the market in the very near term, and mid-sized diesels won't be far behind. As regulators in Europe and elsewhere develop emissions-testing plans that better reflect real-word driving, diesels will be relegated to the high end of the luxury market.
For Volkswagen, as well as other European automakers who have invested heavily in diesel for decades, this transition will be costly and traumatic. As long as an automaker's core business operates efficiently, fines can be paid and customers and shareholders can be made whole. But when a core area of intellectual property and massive production capacity must be effectively abandoned, the fallout of a scandal like Dieselgate presents a more fundamental challenge.
A minor consolation: VW is far from the only European automaker that will face this profound disruption. And in spite of the drama, VW is actually on track to surpass Toyota as the world's best-selling automaker. Diesel may be on its way to the ash heap of history, but that doesn't mean it's taking Volkswagen with it.
To contact the author of this story:
Edward Niedermeyer at eniedermeye1@bloomberg.net
To contact the editor responsible for this story:
Brooke Sample at bsample1@bloomberg.net
Before it's here, it's on the Bloomberg Terminal.
LEARN MORE