view
Deutsche Bank Will Weather Brexit
George Soros may be betting against the German bank, but its exposure to the U.K. is not particularly heavy.
by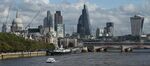 Neither Deutsche Bank Chief Executive Officer John Cryan nor investor George Soros believed the U.K. would vote for Brexit: Cryan said so a number of times, and Soros was long the pound as the results were announced. After the vote, though, Soros shorted about $100 million worth of Deutsche Bank shares, targeting Germany's biggest lender as a potential victim of Britain's secession. 
It was a good bet: Deutsche has tanked since the June 23 vote, falling to the lowest level since Germany's DAX stock index was established in 1988 -- though Barclays, which is based in the U.K., fell even more sharply, and big Italian and French banks have also done worse than Deutsche.

So Soros will probably make money on his short. Does it, however, make sense to worry that Deutsche, or any of the big banks with a strong London presence, will be particularly hard-hit by Brexit? 
Deutsche certainly has been showing signs of weakness. It posted a 6.8 billion euro ($7.45 billion) loss last year, its credit ratings are being cut, it's shedding staff, and investors find it hard to believe that Cryan could turn the bank around after a series of costly scandals and years of risky expansion. Panicky blog posts have highlighted Deutsche's high derivatives exposure (41.9 trillion euros at the end of 2015, the second highest level in the world after JPMorgan Chase, though the exposure is limited to 18.2 billion euros on a net basis).
Besides, Deutsche appears to be exposed to Brexit risk: 19 percent of its total net revenue comes from the U.K. With 8,000 staff members in London, it's the biggest European bank in the City. If the U.K. cannot negotiate a "Norway-style" deal with the European Union, which would allow its banks to operate freely in Europe and allow European banks to operate in the U.K., Deutsche will need to move lots of people elsewhere -- probably to its Frankfurt headquarters. 
Even under the smoothest scenario for Brexit, London may not keep all of its financial business, such as the clearing of euro-denominated derivatives: President Francois Hollande of France, eager to have this part of the industry move to Paris, is already saying it should be taken out of London as an "example for those who seek the end of Europe." Big banks with offices in London may want to move their euro operations to the euro zone, too. That, however, doesn't mean they will lose anything or have to seriously restructure their businesses.
Only 9 percent of Deutsche's assets come from EU countries that don't use the euro, including the U.K., compared with 31 percent for Spain's Santander. Most of the business that generates revenue for Deutsche in London could be done from anywhere in the world.
Deutsche is typical in that way. "Many international banks have branches operating in London, which is an international financial centre, but actually do little business with UK clients," a team of Bank of England researchers said in a paper last year. France's three big banks, BNP Paribas, Credit Agricole and Societe Generale, also have little in the way of U.K. assets.
Finance is a highly globalized business, and though the financial institutions appear to be rooted in London, they could pretty much pick up and leave at any moment if necessary.
It may be a great idea to bet against Deutsche because of its problems. Brexit, however,  carries no special risk for the German bank or most of its European peers without much specifically U.K.-centered business. All they will need to do is give up some office space in London, and move to Frankfurt and Paris. London itself will be the only real loser -- but even that won't happen immediately: Bankers won't make any major moves until it's clear what kind of deal the U.K. intends to do with the EU, and what it'll be allowed to get away with.
To contact the author of this story:
Leonid Bershidsky at lbershidsky@bloomberg.net
To contact the editor responsible for this story:
Max Berley at mberley@bloomberg.net
Before it's here, it's on the Bloomberg Terminal.
LEARN MORE