Share the View
The U.K. Vote's Lessons for the Fed
A daily digest of opinion and analysis from Bloomberg View.
by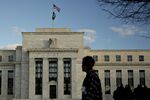 Fed Should Ease After U.K.'s Vote
Britain's starling decision to exit the European Union roiled the global markets, and opens up the possibility of more adverse shocks Narayana Kocherlakota argues the Federal Reserve should be easing monetary policy to make the U.S. economy as healthy as possible -- and it should start explaining to the public how negative interest rates might work.
Uncertainty Is the New Normal
Investors have even more questions than they did before the U.K. decided to leave the EU, and easy answers are nowhere to be found. With market volatility unlikely to wane anytime soon, Conor Sen surveys the range of possible outcomes.
Paul Ryan's Tax Blueprint Looks a Lot Like Trump's
If you needed any proof that the agendas of the House speaker and the Republican nominee are converging, just look at Ryan's new catalog of policy prescriptions. Paula Dwyer says that when it comes to fiscal issues, there's little distance between the two.  
The Supreme Court Restores Balance to the Abortion Debate
In the biggest legal victory for reproductive rights in nearly 25 years, the high court on Monday struck down a Texas law that shuttered half of the abortion clinics in the state. The Bloomberg View editorial board says that the Texas restrictions were cynical and disingenuous -- an embarrassment to abortion opponents, in fact -- and while Margaret Carlson celebrates the ruling, she says both parties should do a better job listening to the majority of voters who hold both pro-choice and pro-life views.
Influence Peddling Gets First Amendment Protections
In other Supreme Court news, the justices unanimously overturned the bribery conviction of former Virginia Governor Robert McDonnell on Monday -- in large part, Noah Feldman says, because maintaining his guilt would have called into question the entire structure of U.S. campaign finance law. Feldman calls the court's decision to give cover to political back-scratching "a historic mistake."
Ritholtz's Reads
When you dial 911 and Wall Street answers (NYT)
The boomer legacy: an economic mess  (Above the Market)
Why the Tesla and electric-car boom could be good news for the grid (LA Times)
(Read Barry Ritholtz's full daily news roundup.)
Bloomberg Gadfly 
(Read more from BV's sister site for fast business commentary.)
Get Share the View every morning in your inbox. Click here to subscribe.
To contact the author of this story:

Before it's here, it's on the Bloomberg Terminal.
LEARN MORE