China
No, Graft Isn't Good for Growth
Xi Jinping's corruption crackdown isn't to blame for China's slump.
by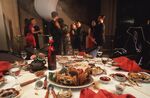 Some critics dismiss President Xi Jinping's massive anti-graft campaign as a political witch hunt directed at his enemies. Others have a different complaint: They argue that bribes and favors have historically served as the grease in the wheels of China's growth. By disrupting the traditional flow of business, they contend, Xi's graft enforcers have brought the country's economic engine grinding to a halt.
The good news is that those critics are wrong, as a more careful look at the data makes clear. The bad news is that the government's own efforts to revive growth risk replenishing corruption at its source.
The case for graft, as it were, is superficially plausible. Like a light-fingered version of Adam Smith's invisible hand, thieving officials have an incentive to spur economic activity. The real estate and infrastructure projects that line their pockets also contribute to a blistering pace of investment. If millions of tax dollars have gone into banquets of sea cucumber and baijiu -- a throat-scorching Chinese liquor -- such extravagance at least boosts consumption. Now investigators have frightened cadres into cancelling investment projects and contenting themselves, as Xi has urged, with four dishes and a soup. Consumption, investment and growth have all taken a hit.
The numbers, however, tell a different story. Drawing on data from ChinaFile, provincial prosecutors, and the National Bureau of Statistics, Bloomberg Intelligence Economics has assembled a unique data set on corruption and growth over the last decade. Even given the occasionally patchy nature of the data, it's clear that the corruption crackdown isn't to blame for China's slowdown.
Investigators have targeted a whole range of provinces for scrutiny. Yet growth has slowed in some, such as coal-mining Shanxi, and not others like export-hub Guangdong. The national data points in the same direction: The biggest slowdown in GDP growth came before Xi's campaign started at the end of 2012, not after.
This shouldn't be a huge surprise. In Africa, Latin America, and Eastern Europe, graft is rightly seen as adding to the cost and uncertainty of doing business, inequality and social stress, thus presenting a barrier to development. It's hardly likely that China would have discovered a unique form of pro-growth corruption.
The problem is what the data also confirms about the roots of corruption. Provinces where the state accounts for a large share of industry and employment, and where growth is reliant on debt-fueled investment -- all areas where less-developed inland provinces score worse -- not surprisingly tend to suffer higher levels of graft.
With billions in revenue and opaque governance, state-owned companies present obvious opportunities for rent-seeking and embezzlement. So do the arcane off-balance sheet structures that local governments use to borrow money.
Even as Xi's graft-busters continue to target both "tigers" and "flies" -- high-level officials and their lowly counterparts -- other government policies are channeling more resources into the state sector. Plans for wider reform of state-owned enterprises remain on the drawing board, and there's no intention to expose behemoths in energy, finance and other strategic sectors to market forces. Investment by state-owned companies is up more than 23 percent year-on-year in the first five months of 2016. By contrast, spending by private-sector firms has slowed dramatically, growing less than 4 percent.
The government's strategy might make sense as a stopgap solution, a classic Keynesian stimulus as state spending fills the gap left by retreating private firms. But as the state sector's role in the economy grows, so too will opportunities for graft. A short-term boost to growth could well lead to a longer-term drag.
Clean governance requires addressing the conditions that encourage corruption, not just the symptoms. Some worthy initiatives are already underway. By pushing local governments to replace trillions of yuan in shadowy debt with lower-interest bonds, the Ministry of Finance is making their borrowing more transparent. Efforts to cut red tape are also removing opportunities for venal officials to extract corrupt rents.
Shrinking the government's direct role in the economy is a tall order: State-owned enterprises play an entrenched role in China's economic, financial, political and social networks. But difficulties haven't deterred Xi from cracking down on some of the most politically influential figures in China. They shouldn't stop him from overhauling the state sector either. 
To contact the author of this story:
Tom Orlik at torlik4@bloomberg.net
To contact the editor responsible for this story:
Nisid Hajari at nhajari@bloomberg.net
Before it's here, it's on the Bloomberg Terminal.
LEARN MORE