view
Brexit Traps British Youth on an Island
Attitudes toward mobility may explain the generation gap in the Brexit vote.
by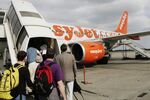 The growing number of racist incidents in the U.K. since the Brexit referendum shows in the direst possible way that this was a vote on immigration, rather than the European Union's alleged insidious plot to build an undemocratic superstate. That explains why young people voted overwhelmingly to "remain," while older ones backed "leave": Mobility, both inbound and outbound, is essential to the younger generation -- in the U.K. and elsewhere in Europe.
Academics have long talked about an "Erasmus generation," named after an EU-funded international student exchange program and carrying the seeds of a new European identity. Terms such as "superdiversity" and "post-multiculturalism" have been used to describe this group of young people. More recently, however, the notion of a "European capacity" has emerged. Young Europeans of various nationalities speak different languages and their cultural heritage isn't common, but they can "successfully manage linguistic and cultural identities and diversity as well as the ability to achieve unity in diversity," as Annelies Messelink and Jan D. ten Thije put it in a 2012 paper. These youth are inquisitive and adaptive.
That helps them to take advantage of the EU's common labor market. According to a 2014 EU report on mobility within the union, 59 percent of working-age men born in eastern Europe but living in the continent's west -- those  Poles and Lithuanians who are now told on the streets of English cities to pack their bags and go -- were under the age of 35, compared with 38 percent of native-born working-age men. In the U.K. in 2014, 36 percent of foreign-born workers and only 24 percent of U.K.-born workers were aged between 25 and 35. 
The U.K. is a country of net immigration, but last year, 123,000 British citizens emigrated, a vast majority of them to work or study. In recent years, that level has been relatively steady; about a quarter of the emigres are aged 15 to 24, and about 60 percent are in the 25 to 44 cohort -- an age group that voted against Brexit.
There are about 4.9 million Britons living outside the U.K., according to the United Nations. About 1.4 million of them live in other European countries. Some of these are retirees -- a few thousands leave every year to settle in Spain or other warmer counties -- but most are working-age. For Britons of this age cohort, mobility is not an abstraction -- it's a distinct possibility.  According to a YouGov poll earlier this year, 51 percent of respondents said they would prefer to live in another EU country, if they could be guaranteed their standard of living; only slightly more "leave" voters wanted to stay in the U.K. They were largely divided by age, with two-thirds of voters under 30 saying they would rather live elsewhere while those over 60 mostly wanted to stay put.
An EU survey taken in 2013 showed that 31 percent of U.K. citizens would consider working in another EU country -- a much bigger share than in Germany, France or Poland and comparable to Spain, which has a 20 percent unemployment rate. 

According to the latest Eurobarometer survey, Europeans consider the free movement of people, goods and services throughout the EU as its second biggest achievement after peace among the member states. No wonder younger people -- those most likely to take advantage of the freedom of movement -- are attached to the EU, not just their own city or country. For older people, only inbound migration is part of the daily experience. They see foreigners on the street, in the pub, in the stores and feel besiedged by the unfamiliar. It wasn't hard for the "leave" campaign to appeal to them with promises to curb the inflow. The young, by contrast, are potential immigrants themselves. It would only take a sharp economic downturn for them to get moving, as the Latvians and Lithuanians did when their countries ran out of jobs, and as the Irish have done throughout their history.
U.K. citizens hoping to stay mobile after Brexit have overloaded Irish missions with requests about obtaining a passport. Those who have no chance to get one are likely to have their freedom of movement curbed, and Brexiteers understand it. Ian Paisley, a unionist politician in Northern Ireland, tweeted after the vote:
Europe, of course, is aging. While in the U.S., millennials are already the most numerous generation, making up more than 27 percent of the adult population, in Italy, for example, their share is only 19 percent. In the EU, people over 50 make up more than 47 percent of the overall population. The political systems are generally skewed toward older voters and they don't get it: They were young while Europe still had borders, and mobility wasn't as feasible or as attractive as it is to the students and workers of today.
As a result, those who voted against Brexit will have to live the longest with its consequences. If Brexit happens as planned and migration is curbed just as Brexiteers promised, the most active Britons will be at a disadvantage compared with their European peers. This is a prediction that can be made more confidently than any economic forecasts. A majority of Britons aged 18 to 50 realized that an important freedom was about to be taken from them, and voted "remain."
It is, perhaps, up to them to make amends when they gain more electoral power.
To contact the author of this story:
Leonid Bershidsky at lbershidsky@bloomberg.net
To contact the editor responsible for this story:
Therese Raphael at traphael4@bloomberg.net
Before it's here, it's on the Bloomberg Terminal.
LEARN MORE