Health Care
A Better Way to Educate Doctors
To improve health care, physicians should know how to use data and manage financial risk.
by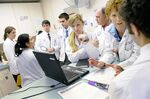 Just when it seems as if citizens everywhere are revolting against government, a county in Texas provides a vivid counterexample. In 2012, voters in Travis County approved an increase in their property taxes to help fund a new medical school at the University of Texas at Austin. The school illustrates that taxpayers are willing to support a project they believe is justified.
And this project -- the Dell Medical School (it also has funding from the Michael and Susan Dell Foundation) -- is well justified, because its curriculum breaks from tradition to address the challenges doctors increasingly face in the effort to improve the value of medical care.
Health care is undergoing surprisingly rapid transformation. As just one measure of the change, over the past several years, inflation-adjusted Medicare spending per beneficiary has declined – a feat that would have seemed implausible in 2008 or 2009. Last week, the normally staid trustees of the Medicare system noted that they are "hopeful that U.S. health care practices are in the process of becoming more efficient as new payment models become more prevalent."
Yet doctors stand at the heart of this transformation. Those new payment models, for example, involve assigning doctors -- and their physician groups and hospitals -- more financial risk and ultimately more responsibility. How doctors practice medicine, in turn, depends substantially on how they are trained. The Dell curriculum is designed for this new world.
Medical schools need to devote more time to teaching doctors to work well in teams, to communicate effectively with patients, and to understand and manage financial risk. At the same time, as medical information expands rapidly and becomes easily available online, medical schools need to move further away from rote memorization, arguably at the heart of the traditional medical school curriculum, and focus on the ability to find and analyze information.
This past weekend at the Aspen Institute, Clay Johnston, the dean of the new medical school, was asked if we should be worried about doctors using Google to better inform their diagnoses. He replied that, on the contrary, we should worried if our doctors are not doing that.
And yet the goal of the new school is not simply to add new courses of study that doctors need, for instance, in statistics and machine learning. Many old types of instruction need to be dialed back. Johnson proposes cutting, for example, instruction on the Krebs cycle, a scourge of many medical students. The Krebs cycle describes the reactions, occurring in mitochondria, through which living cells generate energy. For most practicing doctors, this knowledge is unnecessary – and for many of those specialists who need it, the training they would have received in medical school is dated.
So kudos to the taxpayers of Travis County for supporting this type of education. There's good reason to hope the new school will give future doctors the skills they need to advance health care reform and the wider use of information technology in medical care.
This column does not necessarily reflect the opinion of the editorial board or Bloomberg LP and its owners.