view
The Divided Kingdom
A daily digest of opinion and analysis from Bloomberg View.
by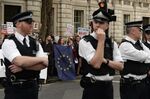 A Broken Britain's Uncertain Future
The U.K.'s vote to leave the European Union revealed deep rifts within the country -- between the young and old, urban and rural, immigrant and native-born -- while strengthening nationalist movements and deepening political schisms. Mark Gilbert analyzes the divides.
U.K.'s Jewel in the Crown Now Looks Especially Precious
Meanwhile, as Britain haltingly breaks away from the European economy, Mihir Sharma says it'll be eager to expand trade with Commonwealth countries -- and that Indian companies and exporters stand to win big.  
The Sun, Not the Rain, Tipped the U.K. Vote
When Brexit results came in, the enthusiastically pro-Leave British newspaper was quick to brag, "It's The Sun wot swung it."  Examining the tabloid media landscape, Leonid Bershidsky says that's not just idle boasting. 
Trump and Clinton Push Radically Different Economic Remedies
Back in another fractured Anglophone nation, the two leading presidential candidates hope to win over a restive, struggling middle class. But that's where their similarities end. Albert R. Hunt examines Donald Trump and Hillary Clinton's policies on taxes, trade, wages and job creation, and finds a study in contrasts. 
The Supreme Court's New, Problematic Outlook on Racial Justice
Last week, the U.S. high court upheld affirmative action in college admissions. But not long ago, the justices struck down Civil-Rights-era voting protections. What gives? Noah Feldman says that policies designed to right past wrongs are losing constitutional favor (sorry, Ta-Nehisi Coates), while "forward-looking" racial-justice objectives are gaining ground.
Ritholtz's Reads
Justin Fox: Do the experts know anything? (Bloomberg View)
To the bright and the rich of Silicon Valley, Trump is a loser (Financial Times)
More important than Brexit: Fiat Chrysler just killed the Viper, one of the most iconic American cars (Business Insider)
(Read Barry Ritholtz's full daily news roundup.)
Get Share the View every morning in your inbox. Click here to subscribe.
To contact the author of this story:

Before it's here, it's on the Bloomberg Terminal.
LEARN MORE