view
Uncertainty Is the New Normal After U.K.'s Startling Vote
Investors have even more questions than they did before Britain decided to leave the EU.
Conor Sen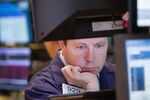 When investors see a market-moving event coming -- be it a merger, an election or an FDA approval -- many turn to the options market to hedge their bets leading up to the event, increasing the cost of insurance, and once the event happens volatility reverts back to normal. Britons' vote last week to leave the EU may not follow that pattern, if uncertainty remains high even after the event.
There certainly are big questions after Thursday's vote and the prime minister's subsequent resignation. Who will be the next British prime minister? Will this prime minister invoke Article 50 of the Lisbon Treaty to begin the process of leaving the EU? Could any stumbling blocks emerge along the way -- public opinion turning against that move, a call for a second referendum, snap elections? Until some of these questions are answered, market volatility is unlikely to go back to normal.
As markets weigh the range of possibilities for where various assets should trade, they have a handy guide given that there was so much confidence early Thursday evening that the referendum had failed. The British pound traded as high as $1.50 before falling to around $1.35. S&P 500 futures were up around 0.5% before reversing and ending the night down more than 3 percent. Friday's trading day brought the most pain to financial stocks, as even successful results in the Dodd-Frank Act stress tests couldn't keep a U.S. investment bank like Morgan Stanley from falling 10 percent.
Options markets may decide that the swing in pricing from Thursday evening through Friday represents the range of possible outcomes should views change on the likelihood of the U.K. actually leaving the union. Perhaps the $1.35 level on the British pound represents full confidence in the exit happening, and $1.50 represents a reversal and the U.K. remaining. If Brexit probabilities fall to 80 percent, perhaps that would imply a British pound level of $1.38, and some of these markets will trade like a pending merger with a discount applied representing the possibility that the deal will fall apart. In this scenario, markets would have to be prepared for either the $1.35 or $1.50 scenario -- a recipe for continuing uncertainty and potential volatility, even if actual volatility reverts back to normal.
One unexpected way this could impact U.S. investors is by creating a new strategy for yield-starved investors. If the downside scenario for U.S. equities from a U.K. exit has been mostly priced in, but a reversal of the referendum remains a possibility, that could change the relative pricing of U.S. equity call options and put options.
Typically, for a stock trading at $100, a $90 put option is more expensive than a $110 call option because of a few factors -- downside crash risk tends to be higher than upside rally potential, there tends to be more demand to buy insurance on a portfolio than to sell it, and selling call options against equity portfolios is a popular way for some investors to earn income on stocks they already own. But here, the "risk" goes in the opposite direction, where reversing Britons' decision could mean a large equity rally. This could make put options relatively less expensive and call options relatively more expensive.
For yield-focused investors willing to give up some upside, the combination of the potential for a large equity rally along with elevated call option prices is the perfect environment for covered call portfolio strategies. This could lead to money rotating out of the most popular equity strategy of the year, "low volatility" exchange-traded funds like SPLV and USMV, which have until now appealed to investors seeking higher returns than are available in fixed income but who want to avoid some of the volatility of equities.
Britain's vote is in the past, but the impact on markets has just begun.
To contact the author of this story:
Conor Sen at conor@newriverinvestments.com
To contact the editor responsible for this story:
Philip Gray at philipgray@bloomberg.net
Before it's here, it's on the Bloomberg Terminal.
LEARN MORE