view
Shhh! The U.K.'s Voting
British law bans a lot of election-day chatter. That may sound odd to Americans, but the U.K. is not alone.
by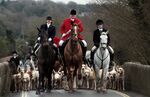 There is, you might have heard, a big event taking place on Thursday in Britain. Voters in the U.K. (I am one) are making a historic decision on whether or not to be part of the European Union, the so-called Brexit referendum. I'm sorry to say that we can't talk about it.
I cannot tell you what took place at my polling station, report on polls, discuss the campaign or advocate for one side of it. It's actually a criminal offense to publish anything about the way people have voted. If you want to look up what the writers at Bloomberg View have been saying in the weeks and days leading up to the vote, you are free to do so on our website. But I'm not here to tell you which of those articles to read.
Those watching British television on voting day would have caught up on all the news they missed when everyone was talking about the B-word. There were in-depth reports on torrential rains that have hit the south, fan misbehavior at the Euro2016 soccer competition in France and even a story about a voracious black hole. Footage of fox cubs being used to train hunting hounds seemed to do well.
Absent from the news was any recap of the campaigns, or a rousing speech by key advocates (they have held forth on social media, however). "Candidates in U.K. elections, and representatives of permitted participants in U.K. referendums, must not act as news presenters, interviewers or presenters of any type of program during the election period," states the regulator, Ofcom.
That will strike many as absurd, especially in the U.S. free-for-all marketplace of ideas. A 1992 Supreme Court case upheld a ban on campaigning in a small area near polling stations, which is as far as it's been willing to go in restricting election-day speech. Americans will be treated (or subjected) to a vivid blow-by-blow of their presidential election as it unfolds in November.
That hasn't been without controversy. On Nov. 4, 1980 the television networks projected Ronald Reagan's victory over Jimmy Carter soon after polls closed on the East coast, provoking an uproar from officials in Western states who argued that voter turnout suffered as a result. In 2008, though, networks made clear they wouldn't hold back from calling a result from exit polls just because some voters hadn't cast ballots.
The U.K. is far from alone in imposing electoral silences. Many countries have bans on polling or broadcasting on election day and sometimes well before. Canada, which bans campaigning on election day, once prohibited distributing election results in regions where the polls were still open, but that was repealed. In Eastern Europe, electoral silence is observed in Hungary, but was shot down by courts in Bulgaria. Election silences are observed, among other countries, in France, Italy (where even the name of candidates can't be said on some TV programs), Poland, Russia and Spain -- where the day before the election is called "reflection day."
Does electoral silence make sense in an era where any blogger, or user of Twitter or Facebook can post a viewpoint or report on what they are seeing? The idea that such bans are a way of levelling the playing field and preventing the intimidation of voters may have made sense in an era where choice was more limited, and perhaps in places where there is a strong public broadcasting tradition, as with the BBC in the U.K. But the information world is now infinitely porous. The BBC still has an aura of authority, but a cacophony of voices would be as levelling as the weird, deafening silence about the vote that dominated Thursday's news.
There's a big vote in the real world, but until 10 p.m. British Summer Time when polls close, we can't talk about it. Sorry.
(
Corrects the time zone in the last paragraph to state that polls close at 10 p.m. British Summer Time.
)
To contact the author of this story:
Therese Raphael at traphael4@bloomberg.net
To contact the editor responsible for this story:
Jonathan Landman at jlandman4@bloomberg.net
Before it's here, it's on the Bloomberg Terminal.
LEARN MORE