view
Oh. So That's Why Boeing Wanted the Iran Deal.
A lobbyist for lifting sanctions has ties to the aerospace giant, which -- surprise! -- just reached a $25 billion deal with Tehran.
by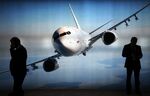 Almost a year after the Iran nuclear deal, we're getting a clearer picture of the coalition of activists who fought for the agreement, sparring with the "warmongers" in Congress.
It is a broad coalition. There are, of course, the peace activists and arms-control experts, who were vocal in support of the deal. There were also quieter members of this campaign, like the corporation that makes the B-52 bomber and the V-22 Osprey.
The Daily Beast's Betsy Woodruff reports that a former Boeing vice president and senior State Department official, Thomas Pickering, lobbied hard for the Iran deal while cashing checks as a consultant for the aerospace giant. Yet when Pickering wrote op-eds and signed public letters urging approval of the Iran agreement, he often neglected to mention his previous and ongoing connections to Boeing.
Now it's obvious why Boeing would have wanted the Iran deal. This week the corporation announced that it had reached a $25 billion deal to sell airliners to Iran, a move that was welcomed Tuesday by the State Department spokesman.
Close watchers of the Iran debate understood that the lifting of sanctions on Iran would potentially allow major U.S. companies like Boeing back into the Iran market. But this is not how the White House and its allies sold the Iran deal last summer. One of their sharpest arguments was that the Iran agreement was a way to avoid a war that opponents of the agreement wanted. As I reported last month, this was not an accident. The nonprofit known as the Ploughshares Fund gave money to a network of advocates and experts and urged them to paint opponents of Iran diplomacy as "pro-war," as early as 2011.
Trita Parsi, the Iranian-Swedish president of the National Iranian American Council, which has received hundreds of thousands of dollars from Ploughshares, acknowledges the delicate situation for Boeing. He told Woodruff: "Obviously Boeing wants this deal with Iran, but it's a tricky one. … It has a lot of political dimensions. That is something Boeing would probably prefer not to deal with."
You're telling me. Pickering has served for years on the advisory board of Parsi's organization, which pushed the "deal or war" talking point. For example, Parsi's group developed a script for activists to use when pressing lawmakers to boycott the Israeli prime minister's speech to Congress last year, in which Benjamin Netanyahu inveighed against the Iran deal. The script said, "On this critical issue of war and peace, I hope you will stand with our President in supporting diplomacy with Iran."
I suppose that has a nicer ring than asking members of Congress to stand with one of the world's largest aerospace and weapons manufacturers "in supporting diplomacy with Iran." It is, after all, a "critical issue of war and peace."
To contact the editor responsible for this story:
Philip Gray at philipgray@bloomberg.net
Before it's here, it's on the Bloomberg Terminal.
LEARN MORE