view
When Investors Have Too Much Choice
A daily digest of opinions and analysis from Bloomberg View.
by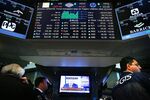 Wall Street Tries Out Lots of Shiny New Objects
The financial industry offers a dizzying array of products -- more than 12,000 exchange-traded funds, exchange-traded notes, and the like. But are they all really necessary? Barry Ritholtz has his doubts.
Maybe Pharmaceutical Reps Aren't Bribing Doctors
It sure looks unseemly when drug companies host lavish feasts for physicians, but what if they offer sales pitches over free hoagies? There's new evidence that even cheap meals influence prescriber behaviors, but Megan McArdle is skeptical doctors making $400,000 will sell out for a sandwich.
Volkswagen Is in Too Much of a Hurry to Move On
The German carmaker has ambitious plans for the future, but it still needs to make a clean break with its past. Leonid Bershidsky lays out what it'll take to put the diesel emissions scandal behind it. 
The Fed May Not See It, But There's Reason for Optimism
Despite what economic policy makers might think, wages and inflation are starting to rise in the U.S. -- you have to know where to look. Conor Sen points the way.
More Problems for Donald Trump
He's falling behind in the polls, his spending is under scrutiny, his donors are getting frustrated -- and that's just the start of the bad news for the presumptive presidential nominee. Paula Dwyer parses a new report from Moody's predicting the U.S. would lose 3.4 million jobs and almost $10 billion in tax revenue under Trump, while Margaret Carlson explains why his response to the Orlando massacre put his already-struggling party in a bind. 
Ritholtz's Reads
Potential pitfalls of negative rates (Fidelity)
The psychology of buying and selling a house (Wall Street Journal
A dozen things I've learned from Elon Musk about business and investing (25iq)
(Read Barry Ritholtz's full daily news roundup.)
Bloomberg Gadfly 
(Read more from BV's sister site for fast business commentary.)
Get Share the View every morning in your inbox. Click here to subscribe.
To contact the author of this story:

Before it's here, it's on the Bloomberg Terminal.
LEARN MORE